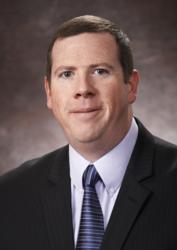 I chose James due to what he brings to the role and our shared vision of EPIC's culture and future.
St. Louis, MO (PRWEB) April 11, 2013
EPIC Systems, Inc. has announced the promotion of James Owen to General Manager from Group Manager. Owen will oversee EPIC's services in modular process, machine vision, packaging lines and custom machines. Owen will manage all aspects of production from the engineering and project management to the fabrication shop.
"James Owen was promoted to the position of General Manager as part of a continuing plan to guarantee EPIC's future. His leadership abilities allow me to reduce my role in day to day operations and focus my long term attention on growth and customer satisfaction," said John Schott, President of EPIC Systems.
"I chose James due to what he brings to the role and our shared vision of EPIC's culture and future. We don't always agree, but have a great relationship where spirited debate achieves better results. Over the years, he has been instrumental in championing and completing many initiatives to make EPIC a better company. The way James conducts himself, in big and small tasks, is a testament to his talent and exceptional judgment.
EPIC is involved in a wide range of endeavors, vertical markets, and technologies. It takes a special person to both technically and commercially understand this and navigate it successfully. Long term, I want to leave the company in the most capable hands, and I firmly believe that James is that person."
Owen is passionate about his new position and sees it as one of several strategic moves to guarantee EPIC's future. "I am very excited about my new role at EPIC Systems, Inc. The General Manager position was created by John Schott to support the continued growth of EPIC. In my new role, I will focus on internal initiatives that will strengthen EPIC's ability to execute projects successfully. The creation of the General Manager position, along with internal promotions and recent new hires, will ensure that EPIC remains a world class engineering and fabrication company," said Owen.
Owen has been at EPIC over fifteen years. Owen's past roles include process engineer, project manager, and Process and Mechanical Group Manager.
ABOUT EPIC SYSTEMS: Founded in 1995, EPIC Systems, Inc. is an experienced multi-disciplined engineering and fabrication firm. EPIC provides turnkey solutions for modular process plants and systems, integrated packaging and assembly lines, custom machinery manufacturing and advanced automation and machine vision system integration.
EPIC Systems is located in St. Louis, MO USA. To learn more about EPIC, visit the website at http://www.epicsysinc.com today for an engineering evaluation of your application.