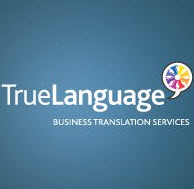 Atlanta, GA (PRWEB) April 12, 2013
TrueLanguage, a leading provider of professional localization and translation services, today announced that it now offers Telephone Interpretation Services for more than 180 languages including European, Middle-East, Asian, and South American languages. The new service offering is in direct response to the continued development of a single, global community throughout the world and is a logical expansion of the existing consecutive and simultaneous interpretation services the company already offers.
"Multicultural, cross-communication is becoming increasingly important as businesses and individuals throughout the world strive to become global entities, sharing information and ideas across not just one or two nations, but multiple," states Uli Dendy, CEO of TrueLanguage. "As we get closer and closer to one, large global community, a single-language personal and professional life will no longer suffice as a sustainable model."
"Our goal at TrueLanguage is to foster global language and cultural growth for our clients," adds Doris Johnson, Director Strategic Business Development for TrueLanguage. "To meet this objective, we constantly seek to add the services that we recognize our clients need to prepare for success in a global business environment. The addition of telephone interpretation services is a natural progression in our mission to position TrueLanguage as the "go-to" language service provider for the global business elite."
TrueLanguage's international phone interpretation services will feature: 24/7/365 interpretation for more than 180 languages; a 12-second connection time for Spanish interpretation; an 18-second connection time for interpretation in other languages, and the ability to make reservations for a scheduled telephone call requiring interpretation services. TrueLanguage provides phone interpretation services in any situation where multi-lingual (or bilingual) communication between individuals is vital but not extensive and does not legally require a live interpreter. For example:

International phone communications between business partners
Interviews for employment, college admissions, business, etc.
Law firms (client meetings, interviews, Q&A sessions)
LEP parent contact for schools and school systems
Medical settings such as doctor consultations
Retail stores, airports and personal banking
Financial sector, consumer counseling services and tax preparation facilities
This list is a small representation of the many ways TrueLanguage is helping to meet the increasing demand for phone interpretation services in today's widening global market. For more information on how phone interpretation services, contact TrueLanguage.
About TrueLanguage
Based in Atlanta, TrueLanguage is a full-service professional localization company that provides cost-effective translation, interpretation and localization services based on each client's specific needs. TrueLanguage offers clients a strong combination of professional language experts, centralized project management and outstanding customer service to ensure accurate, compatible, reliable and authentic translation and interpretation in more than 60 languages worldwide. For more information on TrueLanguage and its worldwide localization services, visit http://www.truelanguage.com or contact the firm at info(at)truelanguage(dot)com or 770 850 1205.