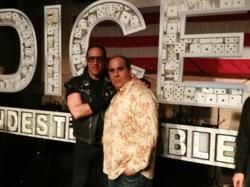 "Pour whatever you are drinking light up whatever you are smoking" "I Do Tings"!
Las Vegas Nevada (PRWEB) April 11, 2013
Las Vegas – On Saturday, April 20 from 11 a.m. - 5 p.m. the general public and local law enforcement agencies are invited to Hard Rock Hotel & Casino to support the Injured Police Officers Fund and play poker alongside celebrity participants with special appearances by the property's resident rock n' roll comedians, Andrew Dice Clay & Michael Wheels Parise. Wheels Parise will be on site with his hit comedy podcast. "I Do Tings!"
Buy-in for the tournament is $100 with a rebuy of $50. The winner of the tournament will receive exclusive prizes. Attendees will also have the chance to bid on many valuable silent auction items. All proceeds will be used locally to support officers and their families in the event of injury or death.
Please join police agencies including LVMPD, NHP, NLVPD, CCSDPD, UNLVPD, City of Las Vegas Detention and Enforcement , Boulder City PD, Mesquite PD, Henderson PD and Clark County Park Police in their support of this event. Registration will begin at 9:30 a.m. inside the Artist Hall at Hard Rock Hotel & Casino located at 4455 Paradise Road.
The mission of the Injured Police Officers Fund is to help reduce the financial burden suffered by Police Officers and their families in the event of a line-of-duty injury or death by providing monetary assistance to these officers and their families.
About Michael Wheels Parise & his comedy podcast "I Do Tings!'
Comedy veteran, Michael Wheels Parise doesn't claim to know everything, but what he does know,… he is a master at. Comedy, Food, Wine and Living Life to the fullest extent, well…maybe sometimes a little fuller. Join Michael Wheels Parise… two nights a week, in his new podcast, Featuring: Celebrity guests, Acclaimed Chefs, Winemakers and Enthusiasts, Cigar Tastings, Checking out the Hottest Gadgets and of course hanging out with some of the funniest comedians of our time, Interviews and hangout sessions in studio and out. Michael Wheels Parise started Comedy 25 years ago, he been around some of Hollywood's hottest properties, critically acclaimed comedian and celebrity chef,… Take a look in the life of what it is like to… Live life on the edge! He has plenty of stories to tell that he has been holding in for 25 years. So pour yourself a glass of whatever your drinking or just light up and enjoy whatever your smoking. "The Michael Wheels Parise Show, …"I Do Tings"!
This event is sponsored by Hard Rock Hotel & Casino, Attack Poker, and Sattler Audio/Video.
For more information or to donate please visit injured police officers.