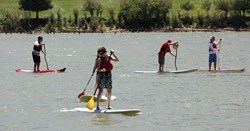 A day on one of Jackson Hole's lakes or rivers on a paddleboard is something people of all ages and ability can do
Jackson Hole, Wyoming (PRWEB) April 11, 2013
The surfing craze has hit Jackson Hole! Stand up paddleboards, also known as SUPs, are being spotted on Wyoming's Snake River, at String Lake in Grand Teton National Park and at Slide Lake to name a few popular local venues. To help Jackson, Wyoming's visitors get the hang of "hanging five" on mountain waters with the fastest growing water sport in the world, the Wyoming Inn is offering a new custom Paddleboard Package. The package includes two nights lodging at the convenient in-town hotel plus a private half-day paddleboard lesson for two from Rendezvous River Sports starting from $459 per person (double occupancy).
"We want to provide our guests with a memorable Jackson Hole travel experience," says Wyoming Inn General Manager Mike Solis. "A day on one of Jackson Hole's lakes or rivers on a paddleboard is something people of all ages and ability can do – and 'surfing' Jackson Hole will make a great story when they return home."
Paddleboards vary in length from eight to 14 plus feet, and are offered in inflatable, foam and composite materials. People stand on them and then use a long, single blade paddle to maneuver across the water as shown on this video of paddleboarding Grand Teton National Park's String Lake.
"Stand up paddling is fun for everyone," says Aaron Pruzan of Rendezvous River Sports. "The learning curve is fairly short, and very quickly you will be walking on water."
The new Wyoming Inn debuts on May 17, following a $4.5 million down-to-the-studs renovation that includes all-new guest rooms and baths with a sleek and luxurious take on the hotel's trademark Western style, plus those all-important "connected traveler" tech upgrades.
Company Information: Just 10 minutes from Jackson's Town Square, the Wyoming Inn offers free shuttle service from the airport. Known for its spacious, comfortable rooms, luxurious amenities and warm Western hospitality, the hotel is true to its mission of providing outstanding customer service, with a friendly staff glad to arrange a variety of Jackson Hole activities suited to guest interests. Conveniently located on the town's free shuttle line, the hotel provides numerous complimentary offerings including an on-site fitness center and wireless Internet. For information, visit http://www.wyominginn.com or call 800.844.0035.
Media Contacts: General Manager Michael Solis, Wyoming Inn, mike(at)thewyominginn(dot)com, 307.734.0035; Darla Worden, WordenGroup Strategic Public Relations, darla(at)wordenpr(dot)com, 307.734.5335