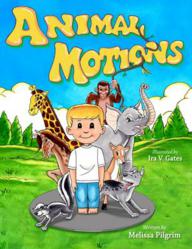 With all the concern about kids and health today, I thought Animal Motions was something that could benefit many children
Pensacola, FL (PRWEB) April 11, 2013
Melissa Pilgrim has devoted much of her life to helping children learn movement and creativity on stage, and her latest project is meant to get kids moving at home. In an era in which video games, myriad cable channels, and glowing computer screens are making kids more sedentary, Pilgrim's new children's book, ANIMAL MOTIONS, from Indigo River Publishing, takes a unique approach to making fitness fun.
The book, colorfully illustrated by Ira V. Gates, is a low-impact movement routine told as a story. Readers and those being read to follow the protagonist, Eric, as he stretches and moves his body by using his imagination to become some of his favorite animals. Children are encouraged to "move" along with him as he travels to the jungle, the desert, the forest, and the ocean, and to move like the animals he imagines himself to be.
This combination of creativity, imagination, reading, and exercise was inspired by Pilgrim's theatre classes with young children. While the children in her classes were getting a regular dose of healthy movement, the author was aware that millions of children were not, and the idea for ANIMAL MOTIONS was born. Pilgrim created the story and the book as a way for children and even parents to exercise in a fun, low-impact way and to get "creatively fit."
"With all the concern about kids and health today, I thought ANIMAL MOTIONS was something that could benefit many children," says Pilgrim. "I hope it benefits both the creative mind and physical body of children while they simply have fun acting it out!"
The author, Melissa Pilgrim, has over 15 years of experience writing for projects in all mediums—film, TV, theatre, and book publishing. She has had 16 plays for children and teens produced, four screenplays optioned, one TV series optioned, and has worked on over 12 books with authors from L.A. to N.Y.C. Melissa was the artistic director for The Sheil Park Players, a community theatre in the Wrigleyville area of Chicago, for five years where she produced and directed 16 original shows and worked with adults and children of all ages. ANIMAL MOTIONS is her first children's book.
The illustrator, Ira V. Gates, has over 25 years of experience working as a graphic artist for both newspapers and magazines. His work has won numerous awards, including "Best of Gannett's Newspaper Illustrations" and placing second in the "National Society of Newspaper Illustration & Layouts Awards." He illustrated the book As the River Flows by Earl Bowden and has also done illustrations for various magazines and ad agencies including Florida Outdoors Sportsman and the Weekender. ANIMAL MOTIONS is his first children's book.
ANIMAL MOTIONS is published by Indigo River Publishing. The book is available at Amazon.com and IndigoRiverPublishing.com. For more information, or to contact the author, visit the book's website: http://www.AnimalMotions.com. Teachers & Parents: Free lesson plans and a free mini-poster to print out and color are available at the website.