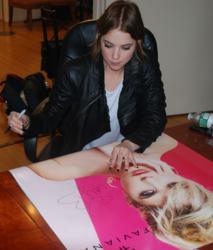 Faviana is a line that girls can feel super-glamorous in. - Ashley Benson
New York, NY (PRWEB) April 10, 2013
To celebrate reaching 15,000 fans on their Facebook page, celebrated evening wear dress designer Faviana, gave away signed Ashley Benson brochures to two lucky fans of the brand, Katya Aleksandra and Erika Poirier, on Facebook.
Two Instagram (Faviana_NY) fans were also rewarded for their loyalty with autographs from Ashley. Contestants were able to enter by posting their favorite Faviana prom dress to either of the sites and winners were chosen at random.
Once Faviana reaches 5,000 followers on Twitter (@FavianaNY), they'll name two more lucky winners at random, simply for following. Naturally, anyone who signs up for the brand's mailing list is automatically entered in the contest.
Faviana recently welcomed actress and fashionista Ashley Benson as the new Face of Faviana. While Ashley is probably best-known for her role as Hanna Marin in ABC Family's hit series, Pretty Little Liars, she plays a slightly naughtier part in Harmony Korine's new film, Spring Breakers, which is getting rave reviews everywhere.
In a recent interview with Seventeen magazine, Ashley said that despite never having gone to prom herself, "Faviana is a line that girls can feel super-glamorous in. A lot of their designs are kind of based off of what celebrities wear on the red carpet!"
Faviana is renowned for creating perfect prom gowns, exquisite red carpet dresses, and perfect designer-inspired frocks for any special occasion. Designed with the fashion-forward girl in mind, Faviana speaks to a variety of sophisticated consumers.
Having established itself over the past few years as the go-to brand for the best designer-inspired looks, Faviana recently launched Faviana Glamour, the brand's premier, signature line, catering to the chic stylish woman who appreciates value and style.
Faviana dresses are available at a variety of fine specialty and department stores. For more information, please visit http://www.faviana.com.