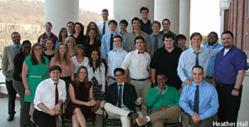 Lynchburg, Va. (PRWEB) April 10, 2013
After trailing Northwestern University and George Mason University for much of the season, the Liberty University Debate Team made a late charge to capture the sweepstakes championships for both the American Debate Association (ADA) and the Cross Examination Debate Association (CEDA). Led by seniors Andrew Landrum and Aaron Siegrist, the Flames captured titles at Wake Forest University, Rutgers University, The United States Naval Academy, Towson University, and the American Debate Association National Tournament.
This marks the fifth consecutive year Liberty has finished atop both the ADA and CEDA rankings. Liberty also competes in The National Debate Tournament (NDT), which will release its final rankings in late April.
LU remains the only institution to sweep all three rankings in a single season, a feat it has achieved six times, including the past four years. Since 1995, Liberty Debate has won 33 national championships.
ADA Final Rankings
1. Liberty University
2. George Mason University
3. James Madison University
4. Wake Forest University
5. University of Florida
6. University of Georgia
7. Vanderbilt University
8. University of Mary Washington
9. Wayne State University
10. Samford University
CEDA Final Rankings
1. Liberty University
2. George Mason University
3. Northwestern University
4. Binghamton University
5. James Madison University
6. US Military Academy
7. Oklahoma University
8. Harvard University
9. Georgetown University
10. Wake Forest University
About Liberty University
Liberty University, founded in 1971, is the largest private, non-profit university in the nation, the largest university in Virginia, and the largest Christian university in the world. Nearly 100,000 students attend classes on its 6,800-acre residential campus and study in its thriving online education program.