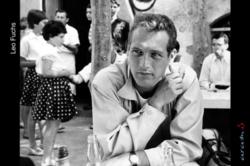 A perfect Coffee Table App
New York, NY (PRWEB) April 12, 2013
Rare photographs of Hollywood Stars during the Golden Age of Hollywood history are featured in this remarkable classical collection.
These Apps are a wonderful companion to the LEO FUCHS: Special Photographer book published by powerHouse Books and available on Amazon.com 
Leo Fuchs is a Hollywood veteran who shot some of the most moving and memorable images of 50s and 60s film icons ever made. Fuchs' introduction to moviemaking came as one of the world's leading "special photographers" on movie sets in Europe and North America. Starting as a freelance magazine photographer, he was one of the rare outsiders invited onto movie sets, where he often developed life–long relationships with the actors and filmmakers and captured candid shots both during shooting and after hours while socializing with the stars. With the support of his dear friend Cary Grant, Fuchs left photography behind in 1964 and spent the next 20 years as a motion picture producer. These intimate photographs from Hollywood's undisputed heyday remained unseen until they were recently uncovered after 30 years in storage. 
Leo Fuchs was born in Vienna to a family of pastry chefs in 1929 and moved to New York with his family at the age of ten. He sold his first picture (of Eleanor Roosevelt) for five dollars when he was barely a teenager, then quit school at 14 to apprentice at Globe Photos in New York. He struck out on his own two years later, working in Broadway nightclubs and as a glamour photographer for newspapers and magazines. After serving as a Signal Corps cameraman in Germany in the early 50s, Fuchs stayed in Europe and was hired as a still photographer on his first film, Magic Fire, directed by William Dieterle, starting is career as a Hollywood special photographer.
With the announcement of the apps' new updates Mighty Mack is reducing the price of Leo Fuchs and Rock Hudson apps to $0.99
Updates Include

New User Interface
New Images
Optimized for iOS 6.1.3 
Optimized for iPhone 5 
Optimized for Retina Display 
Ability to share Artist Biography 
Ability to share Individual Images by Facebook, Twitter, Email 
Clearer Image Details 
Ability to save to Camera Roll 
More Support Tools 
Links to other Apps 
New Splash Page 
Retina display icons
Requirements

iPad, iPod Touch or iPhone, with iOS 5.0 or higher
Wifi connection to download the app
An internet connection for sharing images via email, Twitter or Facebook (no internet connection
required to view the App content)
--
Mighty Mack is a leading publisher of distinguished digital products for the consumer and professional markets. The Company leverages newly available digital tools to create, design, and share new ways of consuming information and experiencing the world around us. The company has released a variety of best-of-class Apps, including Advertising Today, Morpheus Dreams, Where2Boss?, Agora Briefcase, Film Today, among many others.
To learn more about Mighty Mack please visit their website at http://www.mightymack.com or email them to press(at)mightymack(dot)com.