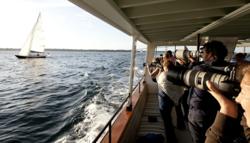 My past experiences with the workshops I attended with Onne have been nothing less than remarkable.
Newport, RI (PRWEB) April 11, 2013
Canon Explorer of Light and nautical photographer, Onne van der Wal, has just announced summer dates for his fifth season of the popular summer series of nautical photography workshops.
Taking place in Newport, RI, aboard a 55' touring boat with the renowned nautical photographer, the MV Gansett hosts van der Wal and up to 15 aspiring photographers for an intimate learning experience with personalized instruction.
The nautical photography workshops will include a specific Regatta event (Classic Yacht Regatta or 12 Metre North American Championships) or "Nautical Newport," which is a tour of Newport Harbor and Narragansett Bay's lighthouses, regattas, coastal scenes and bustling marine activity. Priced at $595 per person, the workshop also includes a freshly made lobster roll dinner, snacks and cocktails. With summer right around the corner, Onne van der Wal Photography Gallery is offering a $50 discount to any photographer that registers before June 1st 2013.
The dates of the "Workshops on the Water" are as follows:
Wednesday June 26th, 2013 3-7:30PM "Nautical Newport"
Saturday August 31st, 2013 10AM-3PM "The Classic Yacht Regatta"
Saturday September 28th, 2013 10AM-3PM "The 12 Metre North American Championship Regatta"
The Newport photography workshops are open to any DSLR shooter with basic understanding of their camera, any level from beginner to advanced and professional shooters are welcome as the advice from van der Wal is mostly one-on-one and is catered to the individual photographers' level and equipment. Van der Wal shoots with Canon EOS digital cameras and lends his lenses to others shooting with Canon cameras.
"My past experiences with the workshops I attended with Onne have been nothing less than remarkable," says "Workshops on the Water" two-time attendee, Scott Cluett. "Not only is his teaching informative, but more importantly, Onne is very approachable and understanding. The workshops foster a real learning experience with a very personal touch."
About Onne van der Wal Photography
Onne van der Wal has been a nautical, sailing and yacht photographer for over 20 years. Providing an in depth understanding to sailboats and yachting, in addition to his skills as a professional photographer, van der Wal brings a keen eye to each ocean photography project, who was once a professional sailor himself. In addition to his extraordinary photography projects done around the world, a gallery of his work can be found at his namesake gallery on Bannister's Wharf downtown. For more information on Onne van der Wal, his photography and his Newport Gallery, visit http://www.vanderwal.com.