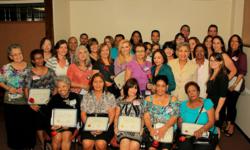 Obesity is expected to grow by 500 percent amongst Texas Hispanics over the next 30 years.
Laredo, TX (PRWEB) April 12, 2013
A new RelaxSlim Metabolism Center in Laredo, Texas opened it doors in March and offers weight loss classes by a trained metabolism and weight loss consultant. Graciela Urbina, Certified Metabolism Consultant, or CMC, is the representative of the company founded more than thirteen years ago by Frank Suarez, Puerto Rican author of the book El Poder del Metabolismo. It expects to service the increasing growing percentage of the population in South Texas who are overweight or obese.
In 2009 statements were made that obesity is expected to grow by more than 500 percent among Texas Hispanics over the next 30 years. In South Texas where the Latin community is the majority, these figures represent a very high percentage of the population. One day in Laredo or any of the nearby border towns confirms this.
Other chronic diseases are expected to increase. "The obesity epidemic is expected to hit everyone hard if we continue our current eating and activity habits, but Hispanics are especially at risk," Dean Harrington said in an interview back in 2009. She cited statistics from the Office of the State Demographer that show:

1.7 million Texas Hispanics were obese, according to 2005 figures. That number is expected to rise by 534 percent to 9.4 million in 2040
Mrs. Urbina, a former dentist in her native Mexico, is hopeful that the weight loss program offered with the RelaxSlim system can help even those who suffer from severe obesity and chronic diseases linked to obesity such as diabetes, high blood pressure, cardiac diseases and asthma.
"We have thus far serviced in this office, since it's mid-March opening, clients from Laredo and the nearby cities of McAllen and Reynosa. Our weight loss system's primary purpose it to educate the client. Without a thorough and truthful explanation of the foods that really cause obesity, the client will yo-yo losing weight one month and gaining it back the next. I am confident that we bring a different approach to the subject of weight loss and I am eager to help the Laredo community," stated Gabriela Suarez, director of the program in the United States.
For more information about the RelaxSlim weight loss program or to attend the classes call 956-796-0474