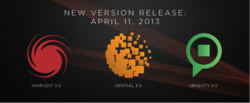 Rosslyn, VA (PRWEB) April 11, 2013
Thermopylae Sciences & Technology (TST), a leading Google Enterprise Partner offering web-enabled geospatial, mobile, and intel solutions for the Federal government and commercial business, today announced the next generation of their award-winning software products - iSpatial, Ubiquity, and iHarvest. Thermopylae was recently named by Google Enterprise as their 2012 Innovation Partner of the Year in Maps for Business, and awarded the top prize in the C4ISR Journal Innovation Award category for Biggest Breakthroughs of 2012.
"Through the culmination of months of work from TST's software development teams, we're excited to offer new features and expanded capabilities in our latest product versions," said AJ Clark, President of TST. "Our latest technology products will provide added value, an enhanced user experience and cost-effective solutions for our customers."
The latest generation of products includes:
iSpatial 3.0: iSpatial is a web-based, collaborative geospatial tool that leverages Google Earth and Maps in a flexible, task-based approach to solving common problems. New features include improved user interface, internationalization to swap languages on the fly, enhanced ingest service that increases the ease and variety of data that can be pulled into iSpatial with a single click, search improvements, temporal sliders to view data over time, and more.
Ubiquity 3.0: Ubiquity is an extensible, web-based platform for creating dynamic, customized, and geocentric mobile applications. New features include new maps, forms, and text widgets, a new backend architecture to improve performance, enhanced widget software development kit (SDK) for users to create their own widgets, an HTML5 hybrid SDK for users not familiar with mobile development, new user interfaces, and more.
iHarvest 5.0: iHarvest is a standards-based enterprise analytic service that organizes, analyzes, and reports activities to inform critical decisions. New features include Dragon Algorithm enhancements that greatly improve performance and capabilities, new APIs to improve flexibility and the overall user experience, adapters to connect with Google Apps elements, and more.
Thermopylae uses geospatial information and mobile technology to provide both federal agencies and commercial customers with custom applications and software programs. Key customers include: U.S. Southern Command (SOUTHCOM), U.S. Department of State (DoS), U.S. Defense Intelligence Agency (DIA), Willbros Group, U.S. Agency for International Development (USAID), U.S. Army Intelligence and Security Command (INSCOM), and U.S. Army, Office of the Deputy Chief of Staff, Intelligence (Army G2).
About Thermopylae
Thermopylae Sciences & Technology is a leading Google Enterprise Partner, offering 100% web-enabled Geo, Mobile, and Intel solutions for Government and Business. We reward creativity and innovation, and strive to bring emerging technologies to our customers in ways that can enhance organizational performance and further their missions. We combine industry experts in information technology and pair them with team members that are subject-matter experts on our customers' key problem sets. The result: cutting-edge solutions that are tailored directly to our customers' needs. Thermopylae is a Service-Disabled Veteran-Owned Small Business (SDVOSB).