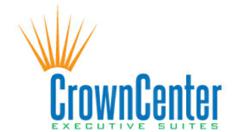 Office space solutions for small businesses and professionals
Fort Lauderdale, FL (PRWEB) April 13, 2013
Crown Center Executive Suites was recently presented with a community appreciation award from Crime Stoppers of Broward County.
Working through Scott Brennar of Brennar Real Estate and Midgard Management, Crown Center Executive Suites donated a space for the organization's use after Crime Stoppers of Broward County's current space at the Broward Sherriff's office was re-allocated.
Crown Center Executive Suites offers flexible meeting rooms located in Fort Lauderdale, FL and is an active corporate member of the business community. According to Tina Kapp, Executive Director for Crown Center Executive Suites, "Crime Stoppers has taken a small office primarily to handle administrative tasks as well as meetings. Members of the Board and Executive Committee will also hold meetings in one of the conference rooms at our facility."
Ralph Page, Executive Director of Crime Stoppers of Broward County, will be the primary occupant of the virtual office space in Fort Lauderdale. When discussing the virtual office space, Page commented, "The executive suite at Crown Center will be ideal. We are very grateful for the referral from Brenner Real Estate Group. And Crown Center has gone out of their way to help us with space that works wonderfully for our needs. We are so pleased that we can continue our operations in this great office space."
While Brenner Real Estate Group and Crown Center Executive Suites were both presented with plaques of appreciation by Paul Jaworski, President of Crime Stoppers of Broward County in a presentation held at Crown Center on Thursday, March 28, both company officials are modest about their community contributions.
"Sometimes good deeds are the rewarded by just the good feelings of knowing you did the right the thing," noted Scott Brenner.
Details of the services offered at Crown Center Executive Suites is available on their website, newly remodeled by web design Miami firm, Netrostar.
About Crown Center Executive Suites
Crown Center Executive Suites (CCES) offers virtual office space solutions for small businesses and professionals requiring flexible office space products and business services. CCES offers executive suites, co-working spaces, virtual offices, and meeting rooms. Crown Center Executive Suites is located at 1451 W. Cypress Creek Road, Fort Lauderdale, FL. Visit Crown Center Executive Suites newly remodeled website at: CrownCenterExecutiveSuites.com.