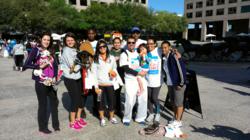 "Team Work makes the Dream Work."
Dallas Tx (PRWEB) April 11, 2013
The team at Seven Marketing Group Inc. in Dallas TX believes very heavily in supporting the local community because without them, no business in the area would be able to exist. The company founder and president has chosen to work with several different organizations around the DFW area however the primary choice is to work with the organizations that help to support children "as it is our belief that they are the future."
Over the past 3 years Seven Marketing Group has been apart of the "Walk for Wishes" event that the local chapter of Make a Wish foundation puts on, however this year was a bit more personal. "One of the wives of our employee's works for a different company and has been there for a few years, however we found out that the owner of her company's son is actually a wish kid. He is only 9 years old and to date has had 3 open heart surgeries and his big wish was for him to be a "Rock Star." Intent on helping out she brought this to the attention to the team over at Seven Marketing Group Inc. and we went to work."
A team was amassed within one weeks time and that team was able to help recruit and donate from friends and family members a total of $720 in just 6 days to help donate to the "Wish Kid" and his dream of becoming a rock star. "All in all between the joined efforts of a few one child was able to have $7400 donated to his dream of becoming a Rock Star and as we speak they are planning a concert where he and his friends will be able to play in front of a crowd, in a public setting, with original songs and some covers!"