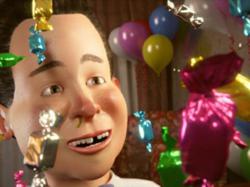 The dark comedy is proving a big hit on the festival circuit
Auckland, New Zealand (PRWEB) April 11, 2013
They say that big things come in small packages and at just over one minute in duration, they don't come much smaller than animated short Funeral Home Pinatas. However, the plucky little film, which has divided audiences with its dark humour, has attracted the attention of film festival curators around the world.
The animated short has been selected for Annecy Festival (France), Melbourne International Animated Festival (Australia) and Uni Shorts (New Zealand) in 2013.
Funeral Home Pinatas is a mock commercial advertising Larry's Funeral Services, who are putting the fun back into funerals by turning loved ones into piñatas. It was created by four advanced 3D animation students - Andrew McCully, Jacob Tuck, Arun Ahahasekhar and Jayson Simpson – in just eight weeks.
The project allows students to hone their technical and creative skills within a deadline-driven production environment.
If you are planning to study 3D animation, read more about the production process.
About Media Design School
Media Design School is New Zealand's most-awarded private tertiary institution and distinguished by its close alignment to industry. The Auckland-based school offers specialist degrees for emerging creative industries including Bachelor of Art and Design (3D Animation and Visual Effects), Bachelor of Creative Technologies (Game Art), Bachelor of Software Engineering (Game Programming) and Bachelor of Media Design. A range of foundation diplomas and graduate qualifications are also available. Media Design School is part of Laureate International Universities, the world's largest private university group with over 65 universities in 29 countries, including dedicated design schools in San Diego, California, and Santa Fe, New Mexico, USA; Berlin and Hamburg, Germany; and Milan, Italy.
For more information, visit http://www.mediadesignschool.com.