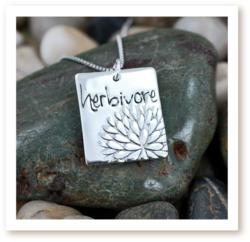 Zoe and Piper... jewelry with a conscience. We are proud to donate a portion of our proceeds to select animal sanctuaries & advocacy groups.
Phoenix, AZ (PRWEB) April 12, 2013
In honor of Earth Day 2013, we're pleased to announce Zoe and Piper, in association with The Artisan Group, will participate in gifting a select group of high-profile, environmentally-conscious celebrities including Hayden Panettiere, Ginnifer Goodwin, Edward Norton, Adrian Grenier, Kate Bosworth, P!nk, Leonardo DiCaprio, Rachel McAdams, Emily VanCamp, Woody Harrelson, Julia Louis-Dreyfus, Daryl Hannah, Malin Akerman, Ted Danson, Orlando Bloom, Jake Gyllenhaal, Josh Hartnett, Sting, Barbra Streisand, Alicia Silverstone, Courteney Cox, Cameron Diaz, Sheryl Crow, Mark Ruffalo, and Natalie Portman.
 
Each celebrity will receive our sterling silver HERBIVORE necklace in their gift bag.
 
To learn more about Zoe and Piper and our products, or our participation in the Earth Day gifting event, visit http://www.zoeandpiper.com or call 480-654-3700.
 
Sienna Kittelman, Zoe and Piper's sole proprietor, is a resident of Gilbert, AZ.
ABOUT THE ARTISAN GROUP
The Artisan Group is an elite art promotions group representing talented small-business artisans at the best celebrity gift lounges. The organization provides a collective sampling of handcrafted products to celebrities and members of the press at top luxury gift lounges such as those leading up to The Academy Awards, The Golden Globes, The MTV Movie Awards and The Primetime Emmys. Membership in The Artisan Group is juried and by invitation-only. The Artisan Group also offers its members guidance in the areas of sales, marketing, social media and public relations.
The Artisan Group is in no way associated with MTV, The Academy of Motion Picture Arts and Sciences, The Hollywood Foreign Press Association or The Academy of Television Arts and Sciences.
 
For press inquiries regarding The Artisan Group, please visit http://www.theartisangroup.org/ or email press(at)theartisangroup(dot)org.