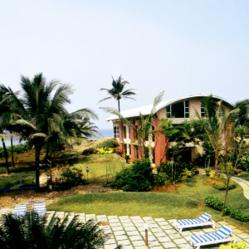 Goa, India (PRWEB UK) 11 April 2013
Dean Ornish, MD (researcher, author and physician consultant to Presidents Clinton and Obama), has been studying yoga for almost 30 years. Ornish first received acclaim through studies showing heart disease to be reversed through diet, meditation, group support and yoga. He published the first edition of Dr. Dean Ornish's Program for Reversing Heart Disease in 1990, and is still a long-standing New York Times Bestseller.
In January 2011, after years of external and internal reviews, Medicare, America's government medical insurance program for over 65s, has even been covering patients opting for Ornish's natural approach to cardiac rehabilitation. Claiming that yoga works by reducing stress levels and relaxing the whole body, including blood vessels, he explains that as "your arteries begin to relax, there's more blood flow everywhere, so everything is better."
More recently, The University of Kansas published a first-of-its-kind study evaluating the role of yoga in the management of atrial fibrillation (a common heart rhythm disorder that is the leading cause of strokes). Reporting the findings in January 2013 Journal of American College of Cardiology, the study proved that rigorous yoga practice helped reduce episodes of irregular heart beat as well as improve symptoms of depression and anxiety that often accompany the disorder.
The timing couldn't be more perfect for Sanda Retreats to introduce their two new yoga based retreat packages; Sanda's Foundation Yoga Course and a Yoga and Spa Retreat. The Foundation Course is designed for people who are beginner to intermediate level in yoga but want to learn more about the origins and benefits of the discipline. A minimum of seven days is required for this in-depth course that teaches the theory behind, as well as the practical application of this ancient science. The program will leave you well equipped to develop your own practice as well as being able to advise those close to you. This is a perfect foundation course for anyone considering going on to become a yoga instructor.
The Yoga and Spa Retreat package is aimed at anyone who wants to enjoy the rejuvenating benefits of relaxation, yoga, meditation and spa therapy treatments. Whether new to yoga or experienced in the practice, instructors will be on hand to help teach, guide, correct your posture and even suggest beneficial postures to help treat any physical, physiological or psychological health issues you may have. This retreat is perfect for anyone looking for holiday that will leave them feeling fully refreshed, rejuvenated and ready to handle anything life throws at them.
Whichever retreat you choose, by the end of your stay you will feel fully revitilised as yoga, pranayam and meditation alongside an ayurvedic diet combine to cleanse and refresh your body, mind and soul.
For more information see http://www.sandaretreats.com