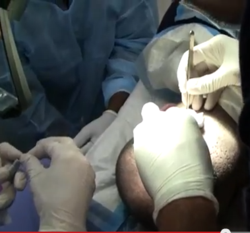 This means patients are doing their research, which is a positive direction for hair restoration.
Beverly Hills, CA (PRWEB) April 11, 2013
As innovations in surgical techniques continue to advance, there has been a significant focus on achieving natural results with minimal to zero scarring. This is true at Beverly Hills Hair Restoration in Los Angeles, California. Medical Director Dr. John Kahen M.D. says his patients are even starting to request certain techniques.
This means patients are doing their research, which is a positive direction for hair restoration, says the medical director. Follicular Unit Extraction is in higher demand now more than ever as patients learn the FUE technique results in the least amount of scarring in the donor hair area where the grafts are extracted.
Dr. Kahen mentions there may be one drawback to this increasing demand, saying that not every person is an ideal candidate for the FUE technique. "For patients that need a certain number of grafts or for patients with certain hair textures, Strip Harvesting is a more favorable technique."
In Strip Harvest, a strip of skin is removed from the back of the scalp. The grafts are then dissected into follicular units of anywhere from one to our hairs per graft - and then transplanted to the recipient area. In Follicular Unit Extraction, the follicular grafts are extracted one by one and then transplanted. The fact that FUE is such a specialized and detailed technique is one of the reasons patients seek it out so specifically, he notes.
Follicular Unit Extraction was first successfully performed in 1989 in Australia by Dr. Ray Woods using a 1 mm needle. Dr. Kahen specializes in creating incisions with micro-blades of less than one millimeter in diameter - making the incisions smaller and, as they heal, virtually undetectable.
About Beverly Hills Hair Restoration:
A boutique, concierge hair restoration practice where patient-care, surgical skill and results are unparalleled. Beverly Hills Hair Restoration is a clinic dedicated to providing permanent and natural solutions for men and women suffering from hair loss.