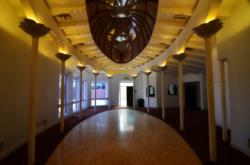 "For nearly 30 years this space was closed to the public. We're going to make it a public celebration of art, tech and creativity." - Tony Ford, COO, ArtFire.com
Tucson, AZ (PRWEB) April 11, 2013
Tucson based web marketplace ArtFire.com will be moving their software development and web marketing team to the former home of the exclusive Mountain Oyster Club, the Bates Mansion, located at 283 N Stone. Company founders John Jacobs and Tony Ford will launch a new artisan focused maker space on the property, called "Maker House".
ArtFire will relocate all of their staff and offices from the east side of Tucson to co-locate with the new maker space. Maker House will serve as a community hub and education space for artists, artisans and creative entrepreneurs.
The maker space will feature classes, events, music, theater and tech hackathons in the historic space, and in a 5,000 SF courtyard hidden behind 9 foot high walls in the heart of Tucson. Maker House will feature a new artisan coffee bar, in-house experts and access to creative equipment ranging from 3D printers to vinyl cutters, paper embossers, and computer guided sewing machines that artists and makers may not have readily available in home studios.
Renovation of the space is already underway. Maker House is projected to soft launch over the summer with a Grand Opening in September. ArtFire.com will move into their new corporate offices in the mansion in May.
More About ArtFire.com

Founded in Tucson in 2008
Currently features 1 million artisan items from 15,000+ global artists
Welcomes 2.5 million global shoppers monthly
Has a diverse community of over 100,000 active members
More About Maker House
Will feature maker/hacker/creative space, classes and events for creatives and tech lovers alike
Equipment on site will include 3D printers, kilns, screen printers, vinyl cutters and other artisan tools not available to most independent artists
Event space will include a coffee bar, outdoor courtyard space for concerts, meeting rooms and communal work spaces for artists and creative entrepreneurs
Space will be open to community groups, artisan collectives and non-profits for meetings and events
Quotes
John Jacobs, CEO and Founder of ArtFire.com
"We're excited to join the many companies, large and small, who are investing in the future of downtown Tucson."
"Moving ArtFire.com into this wonderful historic space perfectly matches both the future of tech companies in Southern Arizona and our commitment to artisans and the creative entrepreneur."
Tony Ford COO and Co-Founder of ArtFire.com
"Creating a physical space that mirrors the variety, diversity and collaboration of our online artisan community and joining that to the indie artist community in Tucson is a perfect way to extend the ArtFire brand."
"The historic Bates Mansion is a fantastic location for a project like Maker House. I can't imagine a more fitting space for a project that offers new collaborations for creative people."
###