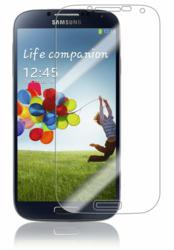 We truly do believe that we make a quality product and to show that we are truly 100% behind our products we back them with a lifetime warranty
Pomona, Ca (PRWEB) April 12, 2013
Skinomi, LLC a leading designer and manufacturer of screen protectors as well as full body skin protectors for electronic devices has recently designed protection for the latest Samsung flagship device, the Samsung Galaxy S4.
The design of the screen protector for the Galaxy S4 includes all of the necessary cut-outs needed by the device to remain fully functional, such as a cut-out for the home button, proximity sensor, front camera and ear speaker. Included with every screen protector kit is an installation squeegee, a micro-fiber cleaning cloth, a solution spray bottle and a set of detailed installation instructions.
The Skinomi Galaxy S4 full body skin protector is available in 7 different designs which are: Transparent Clear, Light Wood, Dark Wood, Black Carbon Fiber, Silver Carbon Fiber, Brushed Steel, and Brushed Aluminum. Each full body kit also contains a screen protector as well as an installation squeegee, micro-fiber cleaning cloth and a set of detailed instructions.
When asked about the process involved when designing the Samsung Galaxy S4 full body protectors, COO James Cooper replied with, "I can't go into too much detail about how our design process works. But I can guarantee that we make sure to accurately design a product that doesn't just get the job done but one that will leave people who use our product in awe. We make every effort to cover the entire screen or the entire device, unlike other screen protectors that leave wide gaps due to production costs. When designing a screen protector and full body protector for a device like the Galaxy S4, customers are buying a product to use on a near perfect device and they expect your product to be just as perfect, so that is what we always aim to do."
The closer it gets to the release of the Galaxy S4, the more demand is expected to increase. Samsung Galaxy S4 screen protectors as well as skin protector are in stock and can be purchased via Amazon. James Cooper also says, "We truly do believe that we make a quality product and to show that we are truly 100% behind our products we back them with a lifetime warranty. If you have ever purchased a protector from us and need a replacement, contact us with proof of purchase and we will send out a replacement, without charging you anything extra."
About Skinomi, LLC
Skinomi, LLC was founded by electronic gadget aficionados who wanted to come up with a way to keep devices and gadgets in perfect condition. The game plan was to not just come up with the best possible protective solution, but it also needed to be economical and unique. By coming up with unique designs and incorporating a unique installation process along with economical prices, Skinomi has quickly become a popular brand among other aficionados who also share the same passion for protecting their gadgets and devices.
customerservice(at)skinomi(dot)com
(888) 225-0471