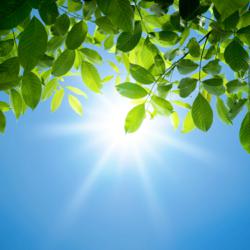 Vista, CA (PRWEB) April 15, 2013
Solatube International Inc., the worldwide leading manufacturer and marketer of Tubular Daylighting Devices (TDDs), will join the Earth Day celebration, "The Face of Climate Change," on Monday, April 22, and continue to support it throughout the year by changing the way people think about utilizing daylight and caring for the environment. Earth Day, organized annually by Earth Day Network, is the largest civic observance in the world with more than 1 billion people participating.
With the introduction of its new Solatube Smart LED System, the company offers homeowners the chance to save up to 94 percent in energy lighting savings. It works by harnessing the sun's (free) daylight during the day and transitioning to cost- and energy-efficient LED lighting at night.
Every Earth Day, Solatube Daylighting Systems help turn off the lights in homes and buildings across the United States. Making the "switch" not only saves energy, but also reduces thousands of tons of carbon emissions. On Earth Day 2012 alone, Solatube International Dealers installed enough products to reduce over 17 tons of carbon emissions for the year.
Solatube International is best known for its unique line of Tubular Daylighting Devices (TDDs), called Solatube Daylighting Systems, which utilize advanced technology to capture natural light from an exterior dome, transfer it down a highly reflective tube and diffuse the light into any interior space. The company offers a full line of energy-saving products, including Solar Star Attic Fans, a line of solar-powered attic ventilation fans that utilize the sun's energy to reduce a home's energy consumption by properly ventilating attic space and reducing strain on heating and air conditioning systems (they are also eligible for a 30 percent Federal Tax Credit). Solatube International also has a full line of daylighting products for commercial use.
In addition to daylighting and attic ventilation, there are numerous ways people can get involved in Earth Day, including:

Attend an Earth Day event
Organize an Earth Day event
Pledge an Act of Green
Sign the Earth Day petition
Join an Earth Day campaign
To get involved in Earth Day 2013 activities, click here. In order to continue to increase awareness and support of its programs, which includes 22,000 organizations in 192 countries, the Earth Day Network (EDN) accepts donations on its site.
Homeowners, as well as design and construction professionals, have learned the benefits of green design, including daylighting, which is a major cost- and energy-saver for new structures and retrofit projects. Solatube Daylighting Systems have been used in numerous LEED® (Leadership in Energy and Environmental Design) certified projects and are specified in dozens of commercial buildings awaiting certification or in the design or construction phases.
About Earth Day Network
Earth Day Network mobilizes over one billion people in 192 countries through year-round advocacy, education, public policy and consumer campaigns to protect the environment. Earth Day is the largest civic observance in the world. For more information, visit http://www.earthday.org.
About Solatube International
Solatube International Inc., based in Vista, Calif. (northern San Diego County), is the worldwide leading manufacturer and marketer of Tubular Daylighting Devices (TDDs) and celebrated its 20th Anniversary in 2011. The company's flagship product, the Solatube® Daylighting System, provides a revolutionary natural lighting solution for all types of residential and commercial applications and is the only spec-grade TDD currently available on the market. The maxim "Innovation in DaylightingTM" reflects the company's commitment to the development of breakthrough daylighting technologies, which has resulted in numerous patents dating back to the mid-1980s. Widely recognized as the industry innovator, Solatube International has earned acclaim around the globe for its unrivaled ability to transform interior spaces with the power of daylight. The company recently launched its Smart LED System, a fusion of daylighting and LED lighting for energy lighting savings of up to 94 percent. For more information on the Solatube Daylighting System or other products manufactured and marketed by Solatube International, including solar-powered attic ventilation fans, please visit the Solatube Web site at http://www.solatube.com or call 888-SOLATUBE (888-765-2882).
# # #