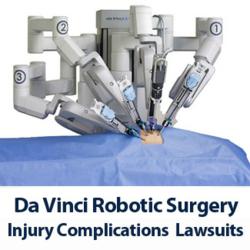 If you or a loved one has been injured by a da Vinci surgical robot contact Wright & Schulte LLC, a leading medical device injury law firm today at 1-888-365-2602 or visit www.yourlegalhelp.com
Columbus, OH (PRWEB) April 14, 2013
The FDA is currently conducting a national probe to try to uncover what has triggered the recent spike in the number of reports of Da Vinci robotic surgery complications the agency has received. Since January 2012, the FDA has received reports of five patient deaths allegedly linked to Da Vinci robot complications, and the FDA's database indicates that about 500 new reports have been filed by Intuitive Surgical alone. Whether the rise in Da Vinci robot complications is "a true reflection of problems" with these devices or whether it is due to other issues is the main focus of the FDA's investigation, according to Synim Rivers, an FDA spokeswoman. "It is difficult to know why the reports have increased," she stated. [bloomberg.com/news/2013-02-28/intuitive-surgical-robots-probed-by-u-s-in-survey-of-surgeons.html]
Wright & Schulte LLC in light of the FDA probe and rise in alleged Da Vinci robotic surgery complications, the firm is currently investigating da Vinci robot lawsuits on behalf of individuals who allegedly suffered complications during robotic surgery. Wright & Schulte is experienced at defending the rights of those who have sustained serious injuries due to defective products and dangerous drugs and are skilled at successfully going up against large corporations. We encourage those who believe they may have sustained a Da Vinci robotic surgery complication to speak with our knowledgeable lawyers by visiting yourlegalhelp.com or by calling 1-800-399-0795.
As mentioned in the New York Daily News, the wider use of the Da Vinci robot may have attributed to the increase in Da Vinci robotic surgery complication reports, in 2012 there were 367,000 robot surgeries versus 114,000 in 2008. But some doctors are concerned that the "wow" factor and heavy marketing have boosted use, while others contend that the spike in reports of da Vinci problems may be explained by the growing awareness that doctors and hospitals have regarding reporting problems with these devices. As mentioned in the New York Daily News, lawsuits in cases that didn't turn out so well often cite inadequate surgeon training with the robot. [http://www.nydailynews.com/life-style/health/surgical-robot-scrutinized-fda-deaths-nightmares-article-1.1311447
A Seattle Times article states there is still no industry standard for training and credentialing of doctors to use the robot, beyond a basic course by the manufacturer. And that critics and lawsuits claim some hospitals allow surgeons without sufficient experience to use the robots, allege many Da Vinci robot lawsuits. [http://seattletimes.com/html/localnews/2018631542_robot08m.html These cases also point out that the Da Vinci robot training provided by Intuitive Surgical, Inc. generally involves only about two to four days of training with these devices and that training consists of using Da Vinci robots to operate on cadavers, including pig cadavers. Some medical professionals have estimated that it takes hundreds of surgeries working with Da Vinci robots before a surgeon is truly considered to be proficient with these devices, as mentioned in a Wall Street Journal article.
[http://online.wsj.com/article/SB10001424052702304703104575173952145907526.html
About Wright & Schulte LLC
Wright & Schulte LLC, an experienced personal injury firm, is dedicated to the belief that America's legal system should work for the people. Every day, the attorneys of Wright & Schulte LLC stand up for the rights of people who have been injured or wronged and fight tirelessly to ensure that even the world's most powerful corporations take responsibility for their actions. If you're looking for a law firm that will guarantee the aggressive and personal representation you deserve, please do not hesitate to contact Wright & Schulte LLC today. Free Da Vinci robotic surgery complication case evaluations are available through yourlegalhelp.com or by calling 1-800-399-0795.
Contact:
Wright & Schulte LLC
812 East National Road
Vandalia, Ohio 45377
1-800-399-0795
http://www.yourlegalhelp.com