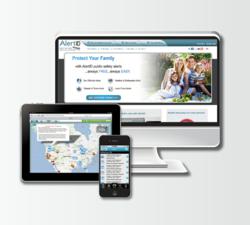 AlertID is a powerful tool to help citizens throughout California become more aware of crime and other threats to the safety of their communities
Las Vegas, Nevada and Palo Alto, California (PRWEB) April 11, 2013
AlertID™ today announced that everyone who lives, works and/or visits the Los Angeles area can now receive crime advisory alerts through AlertID. This local crime information significantly expands the other services already available through AlertID, all at no cost to members or law enforcement agencies.
The Los Angeles Metropolitan area is the second largest metropolitan area in the country, is home to more than 20 million people and the destination to more than 27 million visitors each year. Through AlertID, all of them can now stay connected with public safety authorities and receive alerts and other public safety information critical to helping them protect their families and communities.
Los Angeles and surrounding area residents, workers and visitors now have universal access to crime and threat advisories, sex offender alerts, severe weather advisories, online community watch discussion groups, an interactive crime and emergency map, and other AlertID services. Alerts are available online and on mobile applications and are delivered via email and mobile push notifications. Members can monitor and receive alerts for their neighborhoods as well as other areas such as their workplace and child's school.
The expansion of services in the Los Angeles Metro area follows other recent announcements that AlertID partnered with the National Crime Prevention Council (McGruff the Crime Dog®), the U.S. Department of Justice, the Alameda County Sheriff's Office as well as a collaboration with the City of San Francisco, among others. In addition to crime and public safety alerts, AlertID already provides sex offender, severe weather, earthquake, and neighborhood safety alerts and prevention tips across California and the rest of the country.
"AlertID is a powerful tool to help citizens throughout California become more aware of crime and other threats to the safety of their communities. Together with law enforcement, we can be more proactive in helping ensure the safety of children and families throughout the area." Chris Wenzel, Retired Chief of Police, Danville Police Department.
AlertID has proven to help reduce crime and uses advanced technology to create a communication platform that connects citizens and federal, state, and local authorities to provide critical information and alerts that can help people protect their families and communities.
"This expansion helps protect children and families in one of the largest major metropolitan areas of the country, allowing people to be aware of crime and other threats and to take steps to protect themselves and reduce crime," said Ken Wiles, CEO of AlertID.
To sign up for a free account, or for more information, go to http://www.AlertID.com.
About AlertID, Inc.
AlertID is the established leader in making the country's public safety information universally accessible, helping people protect their families and communities. Alerts are provided by trusted sources including public safety agencies, local law enforcement, schools, neighborhood groups, neighbors, family members and friends. This first-of-its-kind, fast-growing network is the leader in helping people protect their families and communities throughout the United States and is poised to evolve into the world's go-to public safety and security resource.
Thanks to AlertID, seventy four percent of the United States population (more than 232 million residents) can receive Sex Offender Alerts from State Sex Offender Databases. In addition, the AlertID Secure Social Network provides everyone concerned about the safety of communicating on social networks a safe and easy way to share important information quickly. In many communities, AlertID has partnered with law enforcement agencies to deliver local crime data (CAD) to members. Recent partnerships and collaborations include the National Crime Prevention Council (McGruff the Crime Dog®), the U.S. Department of Justice, the Alameda County (Calif.) Sheriff's Office, the Las Vegas Metropolitan Police Department, The City and County of San Francisco, The Nevada Department of Public Safety, Amber Alert and various counter terrorism centers, among many others.