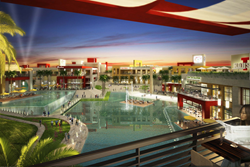 Cairo Festival City Mall will be the premier retail and entertainment destination in Cairo when it opens later this year.
Los Angeles, CA (PRWEB) April 11, 2013
Cityscape Awards announced 5+design's project, Cairo Festival City Mall, as the winner of Best Built & Future Retail Project at The Real Estate In The Middle East 2013 Award Ceremony on March 29, 2013.
Located in Egypt's New Cairo, Cairo Festival City Mall is a mixed-use development designed by 5+design, a Hollywood, CA based creative design studio providing architectural, planning, urban and interior design services for clients around the world.
"Cairo Festival City Mall will be Egypt's first fully-integrated indoor-outdoor shopping center," said 5+design partner, Michael Ellis. "The premier retail and entertainment destination in Cairo when it opens later this year."
Cairo Festival City Mall amasses lifestyle, dining, fashion and entertainment to create a master-planned lifestyle center that spans 2.3 million square feet. 5+design drew upon traditional Egyptian design elements and town planning principles to create the project's distinct districts and overall appearance, and establish a new civic and social core for New Cairo city.
Fostering a sense of community within the Festival Village district, 5+design strategically positioned open performance spaces, outdoor restaurants, lifestyle retail and terraces around an all-new dancing lake. At the heart of the project, the multi-level indoor Festival Mall offers convenient access to the latest retail and entertainment options available, including many retailers entering Egypt for the first time.
Sustainability has also played a key role in the project's overall design, with 5+design incorporating modern eco-planning principles to optimize solar orientation of buildings and maximize pedestrian-only entry points.
The Cityscape Award ceremony recognizes real estate within the emerging markets and highlights the very best of commercial, residential and mixed-use projects around the world. 5+design's current achievements, most recently Russia's 2012 Gold Brick Award add to the studio's merit and progressive outlook on design. 5+design continues to reshape the world with its extensive list of transformative projects slated for completion in the next several years.
About 5+design
Established in 2005, 5+design creates award winning architectural, planning, urban planning and interior designs for clients across the globe. It creates innovative retail, residential, hotel and integrated mixed-use developments with a focus on the people who use them.
From designing the first contemporary master-planned community in Libya to numerous projects in Dubai, Turkey, Russia and Asia, 5+design's expansive approach has led to collaborations with top developers in the industry on the most progressive projects taking place. 5+design's capital and distinct style paves the way for its relentless fervor of innovation and infinite future ambitions.