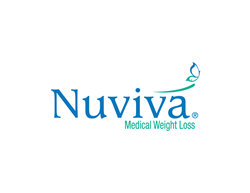 Lake Mary is our second location in the greater Orlando area and we are very excited to welcome clients to this beautiful new clinic.
Lake Mary, Florida (PRWEB) April 12, 2013
Nuviva Medical Weight Loss has opened a new clinic in Orlando. The franchise is located in Lake Mary and represents one of 13 clinics in Florida for the medically supervised weight-loss program and the second Nuviva clinic under the management of Jeremy Avner and medical direction of Chris Brouillette, M.D.
The Lake Mary clinic, located at 719 Rodel Cove., Suite 1031. Dr. Brouillette is a Florida-educated physician who holds a bachelor's degree in biology from the University of West Florida and an M.D. from the University of Florida School of Medicine. Following a two-year residency in general surgery at Orlando Regional Medical Center, Dr. Brouillette completed a family medicine residency at Florida Hospital-South and is board-certified in family medicine. He serves as a clinical assistant professor at Florida State University College of Medicine.
Nuviva Medical Weight Loss operates a clinic in Fort Myers and two in Naples, with 10 franchise locations in Baldwin Park, Sarasota, Tampa, Altamonte Springs, Boca Raton, Boynton Beach and Port Charlotte.
Nuviva Medical Weight Loss founders Alex Joseph, president and CEO, and Jeff Delaney, vice president, created Nuviva in conjunction with Medical Director Brian Arcement, M.D., FACC, FASCAI, to include a multi-phase program with specifically formulated nutraceuticals and extensive individual coaching and education to help clients achieve their weight-loss goals in a sustainable format.
The program integrates diet, exercise, supplements, medications, education and support in a unique, customized program that begins with a comprehensive physician evaluation and includes regular meetings with a nutrition coach.
Lake Mary Nuviva Medical Weight Loss will be celebrating their grand opening Friday, May 10th at the clinic beginning at 5:30pm. This open house style event will feature art from Hyder Gallery in Historic Sanford as well as refreshments. Past clients will also be in attendance to share their success stories.
For more information about Nuviva Medical Weight Loss and to schedule a free consultation regarding Nuviva's proprietary weight-loss program, call 321-363-4995 or toll-free 855-4Nuviva (855-468-8482) or visit http://www.nuvivaweightloss.com/medical_weight_loss/weight_loss_clinic_in_lake_mary/.