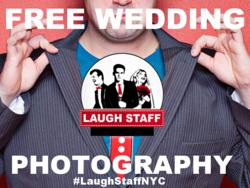 What's your picture worth?
New York, NY (PRWEB) April 11, 2013
Beginning April 11 and running through May 24, Laugh Staff is holding their #LaughStaffNYC contest. Those participating in the contest will be entered for a chance to win the grand prize, a Bellardini Photography Ultimate Wedding Package, valued at $5,000.
To enter the contest, participants should follow these simple steps:

Sign-up for Laugh Staff's blog – http://www.laughstaff.com/LaughStaffNYC
Receive an email from Laugh Staff with the official #LaughStaffNYC logo
Take a picture with the #LaughStaffNYC logo in a unique location
Email the photo to info(at)laughstaff(dot)com
Go and 'like' the Laugh Staff Facebook page to see your photo and vote
Laugh Staff will post the contest photos on their Facebook page – the photo that receives the most 'likes' by May 24 will win the grand prize photography package. Photos must be submitted to Laugh Staff by May 10th for consideration for the grand prize.
In addition to the grand prize, throughout the #LaughStaffNYC contest, Laugh Staff will be giving away additional prizes to fans who 'like' their Facebook page. The prizes will include free tickets to the famous New York Comedy Club and Broadway Comedy Club.
"It was important for us to give something back. We're fortunate that Bellardini Photography along with New York and Broadway Comedy Clubs were willing to help us combine our two passions, weddings and comedy," said Cameron Amigo, co-founder of Laugh Staff and a local college graduate of Kings Point on Long Island.
Laugh Staff is working hard to ensure that best man speeches are memorable for everyone involved. Along with unforgettable best man speeches, they would like to see a happy couple gain something more tangible and make their wedding day extra special. The winner of the #LaughStaffNYC Contest will walk away with a big ticket item to cross off their to-do list.
Bellardini Photography is a leading New Jersey wedding photographer in the tri-state area. They are happy to be a part of such a fun contest and will enjoy providing their fantastic services and Ultimate Wedding Package to the lucky winner.
To enter the contest - start by visiting us here: http://www.laughstaff.com/LaughStaffNYC
For more information about Laugh Staff, Inc. visit http://www.laughstaff.com, call 740-706-6690 or email info(at)laughstaff(dot)com.
About Laugh Staff, Inc:
Laugh Staff, Inc. was founded in 2012 by a team of comedians and writers in Cleveland, Ohio. Laugh Staff helps their clients with best man speeches as well as providing best man speech examples on their blog. They assist best men and maids of honor in speech-editing, speech writing, and provide training on speech delivery. Recognizing the importance of the big day, Laugh Staff's professional comedians work with best men and maids of honor to ensure they make a lasting impression.