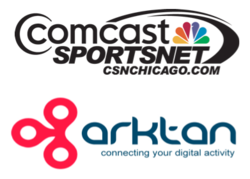 We're thrilled to partner with Arktan in developing a cutting-edge product to serve and entertain the passionate viewers and fans of the Blackhawks, Bulls, Cubs, White Sox and Bears.

T.K. Gore, Senior Director of Digital Media, CSN Chicago
Redwood City, CA (PRWEB) April 11, 2013
Comcast SportsNet Chicago and Arktan announced today a partnership around interactive real-time social experiences for fans of Chicago Blackhawks, Bulls, Cubs, White Sox, and Bears, using 'Team Pulse,' CSN Chicago's most social media-centric product to-date, powered by Arktan's social modules and visualizations.
CSN Chicago's team partners each have their own page powered by Team Pulse, where fans can engage in live chat, second-screen, and 24/7 social experiences. Fans have now the place where they can interact with the most relevant and highest quality curated real-time social content from players, bloggers and fans before, during, and after live telecast of games on TV.
Team Pulse incorporates dynamic, real-time visualizations and social web conversation from Twitter, Facebook, and Instagram on the pages. Fans can interact with onsite real-time multimedia social content around their favorite teams, and share their comments back on Twitter and Facebook.
The real-time trending features give fans always the most up-to-date view of what players and topics are trending. Fans can use the trending features also as a discovery tool to explore deeper layers of social content. The curated Instagram photos along with dynamic, real-time pulse and bar graph visualizations further deepen the fan engagement by adding a visual dimension to the real-time social interaction.
"We did not want to build a social product solely for the sake of building a social product," said Rick Racela, Program Manager of Social Media for NBC Sports Regional Networks. "Our goal was to build a utility with an emphasis on user experience and allow fans to keep their finger on the entire pulse of their team in a meaningful way."
Rahul Aggarwal, Arktan's CEO and Co-Founder, said this: "CSN Chicago has added a whole new dimension to real-time social sports experiences in the industry with the introduction of Team Pulse. Arktan is proud to be partnering with CSN Chicago to realize the forward looking vision of Team Pulse."
The successful strategic partnership between CSN Chicago and Arktan around Team Pulse showcases the two companies' leading capabilities in bringing sports fans highly engaging and interactive real-time social experiences.
T.K. Gore, Senior Director of Digital Media, CSN Chicago: "We launched Pulse based on the groundswell of our fans desire to connect and interact via social technology during live sports telecasts. We're thrilled to partner with Arktan in developing a cutting-edge product to serve and entertain the passionate viewers and fans of the Blackhawks, Bulls, Cubs, White Sox and Bears. We look forward to developing more social TV products with NBC Sports Group and our regional sports network colleagues around the country."
Fans can visit the following Team Pulse pages on CSNChicago.com and begin interacting today!
Bulls Pulse: http://www.csnchicago.com/bullspulse
Blackhawks Pulse: http://www.csnchicago.com/blackhawkspulse
Cubs Pulse: http://www.csnchicago.com/cubspulse
White Sox Pulse: http://www.csnchicago.com/whitesoxpulse
Bears Pulse: http://www.csnchicago.com/bearspulse
About CSN Chicago
NBC Sports Regional Networks, part of the NBC Sports Group, consists of 13 local networks that deliver more than 2,400 sporting events annually, along with breaking news and comprehensive analysis, to more than 50 million cable and satellite homes. The NBC Sports Regional Networks are: Comcast SportsNet Bay Area, Comcast SportsNet California, Comcast SportsNet Chicago, Comcast SportsNet Houston, Comcast SportsNet Mid-Atlantic, Comcast SportsNet New England, Comcast SportsNet Northwest, Comcast SportsNet Philadelphia, CSS and SNY.
NBC Sports Regional Networks also manages NECN (New England Cable News), the nation's largest regional news network, and The Comcast Network, based in Philadelphia and Washington, which delivers community-oriented programming. For more information, visit CSNChicago.com or ComcastSportNet.com. For more information about NBC Sports Group shows and properties, including press releases, photos, talent and executive bios and headshots, please visit NBCSportsGroupPressBox.com.
About Arktan, Inc.
Arktan (http://www.arktan.com) is a leading provider of real-time social curation and conversation products for media, entertainment, and consumer brands across many industries, including TV, music, sports, and publishing. Arktan has built a reputation among customers as a reliable strategic partner and leading technology solution provider with excellent customer service.
Customers are using Arktan products to extend curated real-time content and conversation from Twitter, Facebook, GetGlue, YouTube, Instagram, and all other leading social platforms and blogs, to their sites, mobile apps, and TV.
Arktan products are helping customers create engaging user experiences, build brand loyalty, boost site traffic, and increase revenue opportunities from advertising, product sales, and data capture with quick time to market.
Arktan is powering interactive social experiences for a growing number of leading brands, including Universal Music Group, Sony Music, Warner Music, TNT, TBS, ABC, CBS, NBC, Univision, The Washington Post, Bell Media, Toronto Star, 24 Hour Fitness, and Sonos.
Media Contact:
Sirpa Aggarwal
Arktan, Inc.
sirpa(at)arktan(dot)com
+1.415.216.7969