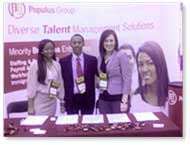 (PRWEB) April 12, 2013
Populus Group is pleased to be a part of the 46th Annual Chicago Business Opportunity Fair (CBOF 46) held on April 17-18, 2013 Festival Hall "A" at Chicago's beautiful lakefront Navy Pier. This event is hosted by the Chicago Minority Supplier Development Council, Inc. (ChicagoMSDC). The theme for this year's event is "Back to Basics: Regroup, Refocus, Renew." Click here to register.
The Chicago Business Opportunity Fair promotes relationships between minority business enterprises (MBE) and major buying organizations. This event will allow MBEs and organizations interested in doing business with them to network and cultivate partnerships over this two day event.
Populus Group is proud to be a part of this conference that supports diversity and minority development. Populus Group exists "because we believe everyone should have an opportunity to succeed. It's what you can't see that matters and it's that philosophy that we have turned into reality." Representing Populus Group at CBOF 46 will be:
Mario Lambert, Director of National Sales, is a business development leader who provides customizable employment and talent management solutions to corporations, executives, and candidates, resulting in successful engagements across the country. Mario is a certified leadership and diversity trainer whose passion is tied to community development. He firmly believes that creating success within people and communities is to identify core values, discover their purpose, and give individuals the environment to reach their full potential. He has provided leadership throughout Chicago for over 15 years.
Ed Herrera, Vice President of Workforce Management Solutions, has over 14 years of professional experience in the staffing industry. He has been responsible for the Workforce Management Solutions division which has grown significantly year over year in spend dollars under his management. Mr. Herrera's team has driven significant hard dollar cost savings for customers while driving opportunity to the suppliers in the various WMS/MSP programs. His drive for providing Populus Group customers the best solution for their unique needs has resulted in trusted and valued partnerships with both the customers and the suppliers.
"The Chicago Business Opportunity Fair has been a very successful tool for Populus Group," said Shannon Kirk, Director of Marketing for Populus Group. "It has opened up many opportunities and partnerships for us. I highly recommend it."
About Populus Group - Founded in 2002, with the vision to provide clients a comprehensive and diverse offering of talent management solutions, Populus Group has engagement coverage across the entire U.S. driven from nine major metropolitan areas: Baltimore, Chicago, Detroit, New York, Philadelphia, Phoenix, Portland, and San Francisco, and Seattle. Populus Group is a privately-held, Minority Business Enterprise (MBE) certified in all 50 states via the Michigan Minority Supplier Development Council. Please stop by booth #1115 to meet the Populus Group team and find out about Populus Group's Integrated Workforce Management Framework which includes: Staffing and Recruiting, Payroll Solutions, Independent Contractor Engagement Services, and Immigration that are customizable for customized unique talent solutions.
###
Contact: Kim Noe, Marketing Communications Specialist
Phone: 425-372-1257
E-mail: knoe(at)populusgroup(dot)com