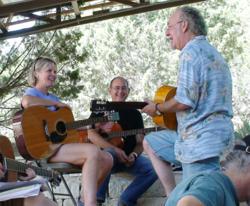 There is something for everyone at this festival: camping, campfire jam sessions, concerts and activities for kids, song sharing, bike rides, canoe trips, Sunday Folk Song Services, Saturday Shabbat Services, and much more.
Kerrville, Texas (PRWEB) April 23, 2013
Registration is still open for schools and workshops offered during the 42nd Annual Kerrville Folk Festival May 23rd through June 9th. Emerging songwriters, musicians, and teachers are drawn to the festival's many learning opportunities, such as the 33rd Annual Songwriters School, Harmonica Workshop, the new Ukulele Workshop, Capo Workshops, a Music Law Panel Discussion, and the 12th Annual Professional Development Program for Teachers. The intimate setting of the ranch on weekdays, the quality of the faculty and the synergy of creative collaboration have given Kerrville Folk Festival educational programs a solid reputation for helping writers and musicians move up to the next level. Camping and tickets to evening shows are included as part of the registration fees. Register online at https://tickets.kerrville-music.com/buy.php.
Songwriters School was founded in 1981. This four day school held May 27-30, allows students to work side by side with tried and true songwriters. This year's faculty includes director Steve Seskin, Dick Goodwin, Bob Franke, Amy Speace, and Buddy Mondlock. We've added a fourth day this year to allow students to take part in special break-out sessions that include a Kyser Capo workshop with Justin Roth, song critique sessions with Steve Gillette, and open mic sessions for the attendees. Songwriters' School is limited to 50 students to maximize the opportunities for each student to get feedback and coaching on their work.
New this year is a three-day Ukulele Workshop directed by Del Rey, with supporting instructors Jim D'Ville & Victoria Vox. Students will learn some basic and advanced Ukulele techniques and have opportunities to work directly with instructors. Class will be held May 28-30.
For the eighth year, the Kerrville Folk Festival will be offering a 3-day Harmonica Workshop June 3-5. Harmonica players are invited to join the guest faculty, Director Rob Roy Parnell, Peter Madcat Ruth, and Joe Filisko, while they explore techniques and styles for intermediate level or above.
The 12th Professional Development Program for Teachers is June 6th and 7th. The Program is free to teachers (holding festival ticket for that day) seeking continuing education in a unique Texas Hill Country setting. Teachers are able to earn up to 12 CECs if they attend both morning and afternoon sessions, on both days, at the Threadgill Theater. On Thursday June 6 is Voice Development with Brenda Freed and Martin Swinger (2 sessions 9am - Noon and 1 - 4pm) and Friday June 7 is Helping Students Find Their Voice with Martin Swinger 9am – Noon and Instrument Making and Creativity in the Classroom with Purly Gates 1 – 4pm.
Once again, this legendary songwriter's festival will run for 18 straight days, hosting over 100 songwriters beginning Memorial Day weekend and lasting nearly three weeks. There is something for everyone at this festival: camping, campfire jam sessions, concerts and activities for kids, "Ballad Tree" song sharing sessions, Hill Country bike rides and canoe trips on the Guadalupe, Sunday Folk Song Services, Saturday Shabbat Services and much more.
A complete festival schedule, workshop information, and tickets can be found at http://www.kerrvillefolkfestival.org or by calling the festival office at (830) 257-3600. Ticket prices range from $25 to $40 depending on the particular day. You can save by purchasing your tickets early online. Campground Access and Parking Lot fees are included in the ticket price.
The Kerrville Folk Festival is owned by the Texas Folk Music Foundation, a 501(c)3 non-profit organization that is dedicated to the support and encouragement of emerging as well as established songwriters.
If you'd like more information, or to schedule an interview with Dalis Allen, please call the Festival Production Office at (830) 257-3600 or e-mail: info(at)kerrville-music(dot)com