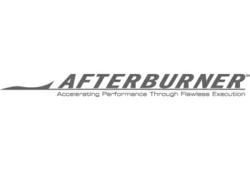 Atlanta (PRWEB) April 11, 2013
As the number of unemployed veterans remains high across the nation, one company intends to combat this stagnant growth. Afterburner, an Atlanta-based consulting firm of over 50 elite military personnel, recognizes the challenges of launching a successful civilian career after extensive military service—and has a solution. The firm will host its first Senior Military Leader Transition Seminar at the Double Tree Hotel outside Ft. Benning on Wednesday April 17, 2013 at no cost to attendees. The event is open to all senior leaders, E-8/CW3/O-4 & above, and will provide post-military career consulting and planning to assist the transitioning leaders in achieving an equally successful civilian career.
The innovative workshop will help retiring and separating military leaders develop a personal mission objective and value proposition that will guide them through their transition. They will also learn an evaluative process that will help them circumvent internal and external threats that could hinder a strong transition. With careers founded in discipline, leadership, and integrity, military leaders already have the skillsets desired by top companies, and this seminar will help them develop a plan to utilize these assets in preparing for and achieving a successful post-military career.
The training is part of a larger Afterburner initiative called EmbedSM, a strategic human capital placement service for elite military professionals that provides leadership training and development in addition to career assistance and placement. Afterburner's consulting and leadership development work within nearly every industry has revealed a large number of fields where senior military skillsets are in high demand. Having been implemented in over 30% of the Fortune 500, the firm's Flawless Execution model is a marriage of military processes and a communication-based leadership style—skills that most senior leaders already possess. By placing these military leaders with its clients, Afterburner facilitates a mutually beneficial arrangement that provides superior leadership talent to top companies around the world.
To register for the Leadership Transition Seminar, call 404-835-3500 or email Roger Nixon at rnixon(at)afterburner(dot)com (registration is open until event date).
About Afterburner
Afterburner Inc., founded in 1996 by U.S. Air Force fighter pilot Jim "Murph" Murphy, trains organizations around the world in the simple, scalable improvement processes of Flawless Execution, which encompasses the Three E's-Empower, Equip, and EmbedSM. With a client list that includes over 30% of the U.S. Fortune 500, Afterburner is among Inc. Magazine's "Inc. 500 List of America's Fastest Growing Companies" and has been featured in the Wall Street Journal, Business Week, Financial Times, Newsweek, and Meetings and Conventions Magazine. Afterburner has also appeared on CNN, CNBC, Fox News, and Bloomberg News. For information on Afterburner's Flawless Execution model, please visit http://www.AfterburnerConsulting.com.