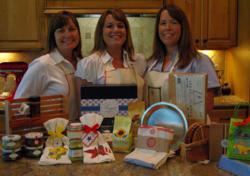 At Script we are all about offering quality American made products...
South Riding, VA (PRWEB) April 11, 2013
Script Gift Company, a Virginia based online retailer offering American Made gifts and home accessories, celebrates one year of operations this month. For the past year the company has offered individual and business gift options at their online store and two small gift boutiques inside a hotel in Dumfries, VA and a Salon and Spa in DeLeon, TX.
With a successful launch of the online store in 2012 now complete, plans for the current year include expanding the small gift boutique concept into other small businesses that will benefit from providing retail shopping options to their customer base. The model of building business within the confines of other small businesses that share values and synergy among customer base is appealing to many existing businesses that want to minimize risk and investment of growing revenue streams.
Company owner, Malisa Haley notes, 'Our ultimate goal is to grow into our own brick and mortar location, however, we have been intrigued by the concept of joining existing businesses interested in offering additional shopping opportunities to their customers but do not want the workload of managing a retail operation in addition to their primary business. We believe this model is primed to grow further as small businesses look for opportunities to increase revenue streams without jumping full force into something new. And our small business partners really love the concept of Made in the USA products. How many hotel gift shops offer that?'
According to company owner, Jamie Wood, "At Script we are all about offering quality American made products but we are also dedicated to saving busy customers time by offering a variety of quality gifts and delivering them complete with gift packaging so when received or purchased at one of our boutiques, the gifts are ready for giving. No running around to multiple stores to put a quality gift together and then realizing you forgot the card or have to scramble for a gift bag."
Jamie Wood and Malisa Haley contribute regularly to the Script Gift blog here: http://www.scriptgiftco.com/_blog/Script_Gift_Co_Blog
About Script Gift Company
Script is owned by three sisters who share a dedication to finding the best Made in America products to offer to their customers. Each brings a unique skill set to the company that keeps the engines running. Working together to develop the concept and launch the business has been a wonderful opportunity and all are excited to celebrate the success of the first year. Website: http://www.scriptgiftco.com