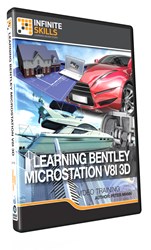 Learn Microstation At Your Own Speed
(PRWEB) April 13, 2013
Software training firm InfiniteSkills Inc. this week introduced its "Learning Bentley Microstation V8i 3D Tutorial," a course designed to teach users of Microstation to optimize its capabilities for 3D modeling and rendering.
Microstation is a computer assisted design (CAD) program for modeling and drafting in two and three-dimensional formats. Recent releases run exclusively on the Microsoft Windows operating system.
Microstation offers leading-edge 3D capabilities, with powerful features both for designing in 3D and rendering photo-quality 3D images.
With InfiniteSkills "Learning Bentley Microstation V8i 3D Tutorial" Microstation designers can quickly and efficiently begin incorporating these powerful capabilities into a design workflow.
Learning Bentley Microstation V8i 3D Video Tutorial - DVD
Course author Peter Mann is currently a retired professor teaching part-time at Mohawk College of Applied Arts and Technology at Hamilton, Ontario. He has been writing Microstation instruction textbooks since 1998, and currently has 11 titles to his credit.
In Learning Bentley Microstation V8i 3D Tutorial, Mann focuses on the crucial aspects of designing and rendering in Microstation's 3D environment, helping students establish a firm foundation in 3D design while providing tips to enhance productivity gleaned from years of experience with the program.
Mann begins with the basic tools, exploring Microstation's 3D design environment, the 3D design cube, and how to use Accudraw in the 3D environment.
From there he explores the elements of 3D design, starting with primitive solids, the building blocks of 3D objects, and moving into surface editing tools, where designers work with modeling materials, learning to create real-world looks using a range of existing materials or creating materials from scratch.
Other important chapters cover design presentation methods, including photo-realistic rendering, working with lights, and using cameras and perspectives.
"The world of 3D modeling in Microstation is large and complex," Mann says. "My course is designed on a few building models that work with universal subjects applicable to everyone that can be used to demonstrate tools you need for any design."
Free demo videos and a full list of course contents can be found on the Learning Bentley Microstation V8i 3D Training Video page of the InfiniteSkills website:
http://www.infiniteskills.com/training/learning-bentley-microstation-v8i-3d.html
InfiniteSkills offers its Learning Bentley Microstation V8i 3D Tutorial either as a DVD or a direct download from the company website at a retail price of $99.95. All InfiniteSkills titles and formats are compatible with Mac and Windows operating systems. Shipping is available around the globe. Additionally, InfiniteSkills tutorials are supported by project files which correspond to examples in the videos, allowing users to work alongside experienced instructors right on their computer or iPad.
About InfiniteSkills Inc.
A leader in the field of software training, InfiniteSkills strives to offer the highest quality training available at an affordable cost. InfiniteSkills tutorials are task-oriented instructional videos, teaching complex skills by providing hands-on examples and guiding users as they carry out critical objectives. InfiniteSkills offers a comprehensive range of software titles available as DVDs, digital downloads, and in iPad editions, keeping with company aim of delivering professional training to customers anywhere they want to learn.