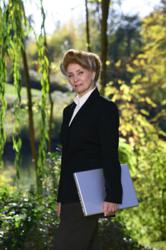 Grants Pass, OR (PRWEB) April 11, 2013
Sharon Kleyne, host of the Sharon Kleyne Hour Radio Talk Show, spoke with Dr. L. DeWayne Cecil, PhD, on the importance of water policy and research.
Dr. Cecil, who was previously NOAA's Western Region Climate Services Director in Salt Lake City, Utah, recently went to Washington, D.C. for Science Climate Day. His participation was sponsored by the American Meteorological Society. There are several organizations that participate in the event, once a year, and the groups meet with members of Congress from whichever state they live in or are representing through their organization. They don't ask for money, or try to influence legislation. They're just there to let the members of Congress know there is a resource of people in their state to draw on when questions arise about science behind climate variability or change.
Dr. Cecil went with the National Climatic Data Center which is in Asheville, North Carolina, so he was with the North Carolina delegation. There were four members of the delegation — three scientists and outreach practitioners from the NCDC and one professor from the University of North Carolina Raleigh. They visited Democratic and Republican members of Congress, and discussed climate change adaptation. While the members of Congress seemed interested in the information presented, they were also very busy with other issues.
Mrs. Kleyne inquired about what is needed to get people more involved in the issues of climate change and water research. Dr. Cecil believes that we need to focus on young people, who are more likely to get involved with environmental causes. Mrs. Kleyne noted that youth have more energy and passion for trying to make things better for the future.
Dr. Cecil noted that until we're hit with a crisis, Americans tend to muddle along and not get involved."It's not like the 60's when the American public was involved, and it seems now like we just take so much for granted. We have to go to the youth and try to get some participation", he stated.
"In the early 70's, this country seemed to be making strides in water management, such as the Clean Water Act in 1972 and the first formal water commission in 1973. And now we're here, 41 years later, and we have no water commission in this country," he informed Mrs. Kleyne. When asked to elaborate, he went on to say that there was House Bill 135 asking for a 21st Century Water Commission, The Water Commission Act of 2009, which was sponsored by Representative John Linder, a Republican in Georgia, to address Georgia's drought situation. He brought the bill with eight others, and it didn't even get out of committee. It didn't even go to the House for a vote.
"We have no national water policy or commission. For whatever reasons, our Representatives and Senators in Washington, D.C. don't think this is important enough. They're focusing on other important things, but what are we going to do about these water issues?", Dr. Cecil wondered.
Dr. Cecil believes that we need to be focusing on energy, water, and climate change adaptation policies and taking these issues seriously. "Collectively, these issues of energy, water, climate variability and change, affect everybody. They have no boundaries or borders."
The Sharon Kleyne Hour Power of Water is broadcast live on Mondays, 10:00 a.m., PST/PDT. The syndicated radio talk show is heard on Voice America/World Talk Radio, Green Talk Network and Apple iTunes. Go to http://www.SharonKleyneHour.com for written summaries and on-demand podcasts of shows, including the recent DeWayne Cecil interview.
© 2013 Bio-Logic Aqua Research. All rights reserved.