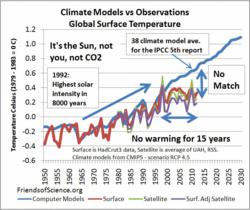 "The need for carbon taxes or trades is not supported by science or the widely held global warming theory. Bad science leads to bad public policy."
Calgary, Alberta, Canada (PRWEB) April 11, 2013
Multi-trillion dollar mission-based investment funds in climate change to theoretically stop global warming pushed by the dying EU carbon market are the real motivators behind the anti-Keystone rhetoric flying around the United States, say Friends of Science.
"EU Climate Commissioner Connie Hedegaard remarks appear to be misinformed on the science," says Len Maier, president of Friends of Science. "There has been no global warming in 17 years, despite a rise in carbon dioxide (CO2). Thus, there is no need for carbon taxes."
Maier disputes Hedegaard's claim there is little denial of global warming at home in Denmark. The work of Danish astrophysicist Henrik Svensmark scientifically decimated the catastrophic anthropogenic global warming theory (CAGW).
"People should be following the money in the argument against Keystone XL," says Len Maier. "Large mission based investment firms have dumped trillions into carbon trades or green energy start-ups. They will lose their shirts if the climate scare and carbon trade markets dry up."
Friends of Science position is that the sun is the main driver of climate change – a conclusion evidenced by Dr. Svensmark's research which was largely confirmed by the CLOUD experiment using CERN's proton synchrotron. Changes in solar activity correlate very well with global temperatures, but CO2 does not.
Declining upper atmosphere water vapor offsets most of the presumed warming effect of CO2 emissions. This allows heat to escape to space. Clouds act to regulate earth's temperature, especially in the tropics. Warmer temperatures cause more clouds. This reflects the solar heat back out to space, according to Maier.
Says Maier, "The need for carbon taxes or trades are not supported by science or the widely held global warming theory. Bad science leads to bad public policy."
According to the Canada's mission-based investment fund, The Ethical Funds Group, in the Carbon Disclosure Project alone they are "Representing over 550 institutional investors and over $70 trillion USD in assets under management.
Maier notes that even in Alberta, European firms and Renewable Energy Certificates are underwriting the development of major wind turbine projects.
"In fact several Vestas wind turbines from Denmark were just ordered for the Blackspring Ridge, a southern Alberta wind farm sold to new co-owners Enbridge and EDF of France," says Maier.
According to the Huffington Post Alberta "The [Blackspring] project will also generate renewable energy credits that have been contracted to Pacific Gas and Electric, a major U.S. power company."
Maier points out that the EU carbon market was just barely resuscitated last month. In Italy the Mafia have been making hay in clean energy. According to an April 4 ABC News article, the police confiscated $1.7 billion in clean energy assets of the "Lord of the Wind" - Vito Nicastri - including 43 wind and solar energy companies, 98 properties and 66 bank accounts.
"Aside from corruption and white collar 'carbon-bagging' crime, thousands died this winter in the UK because of 'too much green energy'," says Maier, citing a Telegraph editorial."We must not adopt EU climate policies."
To this end, Friends of Science will host Dr. Benny Peiser of the UK Global Warming Policy Foundation to speak on the topic of: "To Heat or Eat: Europe's Failed Climate Policies" at the Friends of Science 10th Anniversary Luncheon Calgary on May 14, 2013 at the Met Centre in Calgary. This event is open to the public. Tickets are available on-line.
About the Friends of Science
Friends of Science have spent a decade reviewing a broad spectrum of literature on climate change and have concluded the sun is the main driver of climate change, not carbon dioxide (CO2). The core group of the Friends of Science is made up of retired earth and atmospheric scientists, but anyone can join.
Contact:
Friends of Science Society
P.O.Box 23167, Connaught P.O.
Calgary, Alberta
Canada T2S 3B1
Toll-free Telephone: 1-888-789-9597
Web: friendsofscience.org
E-mail: contact(at)friendsofscience(dot)org