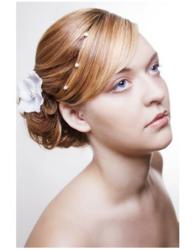 Hair crystals add sparkle, catching the eye and adding an extra touch of magic to any bridal look. What is more they are affordable and easy to fit
London, UK (PRWEB UK) 12 April 2013
Hair crystals and crystal wire extensions, are simple to fit and can be worn in any bridal hair do, whether it is an up do or a natural down style. Hair crystals slide over the bride's own hair using a special applicator, giving outstanding results. The other option, crystal wire extensions, fit seamlessly to the brides own hair on invisible wires allowing the crystals to 'dance' effortlessly in the hair catching the light and glinting beautifully.
Hairpiece and accessory retailer, Wonderland Wigs have noticed an increase in sales of hair jewellery this year and are predicting that this will be a popular hair accessory for brides this summer. Their range includes a selection of Swarvoski crystal elements in a full range of colours, which range from £3.99 to £9.99.
Sam McClements, Creative Director at Wonderland Wigs says "Hair crystals are amazing, they're beautiful and sparkly without being too over the top. Plus they are easy to fit, so if you're brave enough to do your own hair, or are looking to save some money on a stylist, then hair jewellery is the perfect answer for you as well."
Wonderland Wigs is a leading retailer of celebrity and fashion led wigs, hairpieces, extensions and hair accessories. Based in the UK, with the aim of giving every girl the 'great hair she deserves', Wonderland offer something for everyone and are favored by a host of celebrities across the world. http://www.WonderlandWigs.com/en/