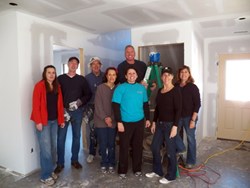 We are very blessed and thankful that Pisgah View Head Start Center was chosen as one of the projects of the LA 31 class...Pisgah View depends entirely on volunteers to provide the upkeep of their grounds and equipment. - Lorraine Riddle
Asheville, NC (PRWEB) April 11, 2013
In October 2012, the Leadership Asheville 31 Class began community research to learn more about living wages and how to improve the financial security of low-income earners. Class members concluded that many workers in Asheville and Buncombe County face the challenge of low wages along with other economic issues. LA 31 has chosen to form teams focused on the four most important issues currently facing low income and middle class workers in the WNC region: housing, childcare, wellness, and transportation. Community service projects have been designed by the LA 31 teams to highlight these issues and collaborations have been formed with Mountain Housing Opportunities (MHO), Pisgah View Center, YMCA, and the 3-2-1-Almost None campaign.
Mountain Housing Opportunities Project March 2013
Mountain Housing Opportunities is a non-profit community development corporation serving Asheville and Buncombe County. MHO builds homes for low income and middle class families and improves neighborhoods and communities. The organization is most well known for its Self-Help Homeownership program, which provides low or moderate income families and individuals in Buncombe County the chance to own an affordable home through "sweat equity" construction hours. On March 28, 2013 the LA 31 Housing Team launched the first community service project with a half-day of painting a new 2-story home recently built my MHO. LA 31 Class members also consulted with MHO administrative staff donor research and strategy development to improve MHO's funding capacity.
Pisgah View Head Start Center Project April 13, 2013 9:30 A.M.
The LA 31 Class childcare team launches the second community project with Pisgah View Head Start Center on April 13, 2013 at 9:30 AM. Pisgah View Center, the home of a head start program for kids ages three through five, currently serves approximately 90 children from diverse demographics. Lorraine Riddle, an Early Childhood Education Supervisor with the program for 31 years, has worked closely with LA 31 class members. The service projects includes building a new garden box area, redistributing the padding chips in the playground, washing outside windows, and more. "We are very blessed and thankful that Pisgah View Head Start Center was chosen as one of the projects of the LA 31 class," states Lorraine, "Pisgah View depends entirely on volunteers to provide the upkeep of their grounds and equipment."
YMCA Healthy Kids Day, April 13, 2013, 9:00 A.M.
Accessing health care can be challenging for many of us, but it is especially tough for people with low incomes. This issue is compounded by patterns of unhealthy behavior. The LA 31 Class wellness team is focused on spreading information about services and opportunities for families to maintain wellness and enjoy the benefits of a healthy lifestyle. The team will be joining in the YMCA's Healthy Kids Day and the 5-2-1-Almost None Initiative of WNC Healthy Kids, specifically, to share the message about healthy habits for children. Team members helped 5-2-1-Almost None design their materials for the festival and will work at the downtown event beginning at 9:00 AM. The 5-2-1-Almost None message stands for a daily routine of eating 5 servings of fruits and vegetables, cutting screen time to 2 hrs. or less, active play for at least I hr. and drinking almost no sugary drinks. The LA 31 wellness team will follow-up with 5-2-1 Almost None after the festival by distributing children's storybooks to medical offices, with their same preventive message.
Transportation Service Projects Coming in May
The LA 31 transportation team began their service by supporting the Bike Love benefit for Asheville on Bikes and the Asheville Middle School bike club. Their next project will highlight the vital importance of our public transit system and the challenges to rider access. Working with Green Opportunities, the LA 31 transportation team will identify transit stops that need repair and will host events to renovate those stops. Several members are also taking part in the Asheville Bike and Pedestrian Task Force. Specific details about upcoming events will be released when they are available,
Conclusion
LA 31 is dedicated to demonstrating that, although a living wage is important to the financial health and dignity of every working person, there are also essential elements within Asheville's community that must be supported to improve the quality of life for all people, especially those at the lower end of the wage spectrum. Future service projects will highlight the way the community as a whole can contribute to improving the quality of life for individuals who are striving to reach a reasonable level of prosperity.
For more information on Leadership Asheville or community service projects contact Barbara Brill, Executive Director of Leadership Asheville, at 828-348-0673 or bbrill(at)leadershipasheville(dot)org. Photos are available upon request.