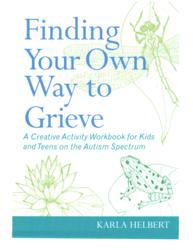 For families, professionals and grieving people, this new, innovative book offers creative and expressive activities that help with the grieving process
Richmond, Virginia (PRWEB) April 11, 2013
Published by London based Jessica Kingsley Publishers, Finding Your Own Way to Grieve is endorsed by famed autistic spokesperson and author Temple Grandin, world-renowned Aspergers authority Tony Attwood, grief expert Kenneth Doka, and many other professionals in the fields of both grief and autism.
For families, professionals and grieving people, this innovative new book offers creative and expressive activities that help with the grieving process. The book includes writing, arts and crafts, cooking, movement, relaxation and remembrance activities, as well as illustrations by the author. Checklists and questions help determine the reader's emotional and mental states. Pertinent advice and information for parents and other support people is provided throughout. With a detailed glossary, and an extensive international resource list, the book is available for purchase in the United States, the United Kingdom, Canada, Australia and New Zealand.
Those on the autism spectrum can struggle to cope with the loss of a loved one and the complicated, painful emotions of bereavement. The chaotic experience of grief can exacerbate characteristics and symptoms of autism and leave a person with Autism Spectrum Disorder more at risk for complication of bereavement and potentially, other mental health difficulties. This interactive, experiential new book explains death in concrete terms that can be easily understood, explores difficult feelings and experiences the reader may encounter in grief, provides aid in finding support, and helps all readers to understand that grief is a normal and natural response to the death of a loved one.
The author, a Richmond, Virginia, USA based psychotherapist, operates a private therapy and consultation practice. Ms.Helbert treats those on the autism spectrum as well as other populations. Her specialties include grief and bereavement, traumatic grief, Autism Spectrum Disorders, anxiety, depression and stress management. Ms. Helbert is well acquainted with the pain of grief having experienced the death of her own son from a brain tumor in 2006.