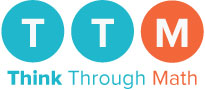 Our program provides skillful differentiation at every step.
Pittsburgh, PA (PRWEB) April 12, 2013
Last week, Arizona State University, the Clayton Christensen Institute and GSV Advisors announced the finalists in nine categories for the Return On Education Innovation Awards. The awards are tied to the ASU GSV Education Innovation Summit, a conference that has quickly grown in size and significance since its inception. Think Through Math was named a finalist in the "STEM" category.
Finalists were chosen based on their fulfillment of the following criteria:

Dramatically improving learning outcomes;
Providing substantial leverage to learning leaders (teachers, professors, self-learners);
Significantly increasing access to education, and/or
Greatly reducing the cost for learners and/or learning institutions.
"Think Through Math is honored to be listed among some of the best and most innovative names in education technology," says Kevin McAliley, CEO of Think Through Math. "We're especially pleased to be recognized by ROE's inaugural awards in our inaugural year.
Think Through Math (TTM) is an adaptive, supplemental math solution that prepares students for the rigors of the Common Core State Standards and accelerates them to grade level. With a powerful combination of personalized learning and on-demand live tutoring, TTM is proven to raise math achievement for students in grades 3 through Algebra I.
This nomination marks the latest achievement in what has been a banner year for Think Through Math. In addition to serving students in 41 states, state-level leaders in Texas, Indiana, Oklahoma, and Idaho have made the program widely available to their students. Some 4 millions problems are completed by students on a typical busy school day. To date this school year, 700,000 students have taken advantage of Think Through Math's embedded access to live, certified teachers.
"Think Through Math is breaking new ground in education," adds McAliley. "We know how difficult it is for teachers to differentiate in a busy classroom. Our program provides skillful differentiation at every step. We don't stop with personalized lesson pathways with lots of immediate corrective feedback. We take differentiation to the next level by providing just-in-time instruction from qualified teachers–in English or Spanish."
Winners will be announced at the ROE Awards dinner at the Education Innovation Summit on Wednesday, April 17.
About Think Through Learning Inc.
At Think Through Learning, we believe that success in mathematics transforms the way students perform in school and beyond. We are driven to motivate students in unprecedented ways. We have a vision of effective education: a powerful blend of web-based, adaptive instruction and LIVE, state-certified teachers. We champion innovation, teacher effectiveness, college and career readiness,