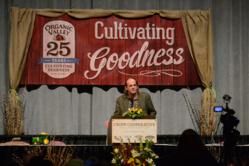 'Celebrating the 25th anniversary of our cooperative makes this year's Annual Meeting exceptionally significant and special,' said George Siemon, Organic Valley CEIEIO. 'When we got together 25 years ago, our goal was to save family farms.'
La Crosse, WI (PRWEB) April 11, 2013
The final day of Organic Valley's Annual Meeting is underway today in La Crosse, Wis. More than 575 farmer-owners—from 26 states from Maine to California—converged for the cooperative's Annual Meeting activities and corresponding 25th Anniversary celebration, which began Tuesday, April 9.
Organic Valley, the nation's largest cooperative of organic farmers and a leading organic brand, annually convenes its farmer-owners. A true representation of the cooperative model in action, this year's three-day event features a series of workshops, meetings and celebrations around 2012 successes and cooperative goals for the year ahead. Event highlights include a farmer awards banquet that occurred last night, April 10, during which Organic Valley rewarded its farmers for top-quality production, outstanding commitment to sustainable agriculture, and leadership among the next generation of young organic farmer-leaders.
For 25 years, Organic Valley has been cultivating goodness and keeping farmers on the land—a key theme throughout this year's Annual Meeting. The cooperative began in 1988 with a group of Wisconsin farmers committed to organic agriculture as a sustainable solution to the staggering loss of family farms. The farmers decided that following a cooperative model, where each farmer was an owner of the organization, would best ensure each member had a voice in how their products were produced, marketed and sold.
Today, Organic Valley represents 1,834 farmers in 35 states and three Canadian provinces. In an era where corporations dominate all facets of business, Organic Valley is proof that an independent cooperative is a successful model for nurturing local communities and a lifeline for America's struggling family farms.
"Celebrating the 25th anniversary of our cooperative makes this year's Annual Meeting exceptionally significant and special," said George Siemon, Organic Valley CEIEIO. "When we got together 25 years ago, our goal was to save family farms. We saw organic agriculture and a cooperative business model as a sustainable way to do this, but we knew we couldn't do it alone. The hundreds of farmers actively participating this week—and all our farmer-owners, partners and supporters throughout the years—have made this milestone possible. It's this cooperation that gives Organic Valley great promise and a positive outlook on the next 25 years."
Siemon, also an Organic Valley founding farmer, was honored last night with the Ray Hass Organic Pioneer Award for his vision, leadership and tireless dedication to the cooperative throughout its 25-year history. The Ray Hass Organic Pioneer Award—named after one of the founding members of Organic Valley and one of the very first organic dairy farmers in the United States—is an annual memorial award given to a pioneering individual in the cooperative and the organic movement.
Today, Siemon will address the farmer-owners with his annual "State of the Co-op," and events will conclude with a keynote address from Anna Lappé, sustainable food advocate and widely-respected author of Diet for a Hot Planet: The Climate Crisis at the End of Your Fork and What You Can Do About It.
"It's a huge honor to join in these celebrations," said Lappé. "As a mother, I appreciate the high quality food Organic Valley produces, and so do my two daughters. As an advocate for healthy food for all, I know that Organic Valley members' innovative sustainable practices are the key to food security. The connection between eaters and farmers has never been clearer to me. We are in this together and thanks to Organic Valley members, we're healthier for it."
"I attend Annual Meeting each year to see and be a part of our cooperative model in action," said Regina Beidler, Organic Valley dairy farmer from Randolph Center, Vt. "I've had a meaningful three days connecting with my peers, celebrating a historic milestone, and most important, contributing my voice to the decisions that affect my family, community and the future of organic agriculture."
Beidler and other attendees discussed goals for 2013 and celebrated a successful 2012, during which Organic Valley saw a record $860 million in sales and 20 percent growth, the addition of 212 new farmers, and the donation of more than $2.2 million to nonprofit organizations dedicated to advancing organic food and farming.
Additional Annual Meeting highlights include the following:

An address by Dr. Don Huber, internationally recognized plant pathologist and professor emeritus at Purdue University
"The Impact of Climate Change on Agriculture and Health" workshop, featuring panelists J. Drake Hamilton, science policy director at Fresh Energy, and University of Wisconsin researchers Kyle Swanson and Kenneth Maly
Release of Organic Valley's inaugural Sustainability Report documenting the co-op's progress and key sustainability accomplishments, such as completion of a state-of-the-art solar electric system at the co-op's La Farge, Wis. headquarters
Recognition of all co-op board members from the past 25 years
New product introductions to the farmers: Organic Valley Grassmilk™ Cheese, an organic specialty cheese produced with milk from cows that are 100 percent grass-fed; and Organic Prairie™ 100% Grassfed Organic Uncured Beef Hot Dogs, fully-cooked, hardwood-smoked, skinless, all-beef hot dogs
Organic Valley: Independent and Farmer-Owned
Organic Valley is America's largest cooperative of organic farmers and one of the nation's leading organic brands. Organized in 1988, it represents 1,834 farmers in 35 states and three Canadian provinces, and achieved $860 million in 2012 sales. Focused on its founding mission of saving family farms through organic farming, Organic Valley produces a variety of organic foods, including organic milk, soy, cheese, butter, spreads, creams, eggs, produce and juice, which are sold in supermarkets, natural foods stores and food cooperatives nationwide. With its regional model, milk is produced, bottled and distributed right in the region where it is farmed to ensure fewer miles from farm to table and to support our local economies. For further information, and to learn about Organic Valley's 25 years of sustainable agriculture as it celebrates its anniversary in 2013, visit http://www.organicvalley.coop. Organic Valley is also on Twitter @OrganicValley and Facebook http://www.facebook.com/OrganicValley.