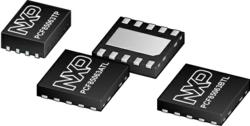 Eindhoven, Netherlands (PRWEB) April 11, 2013
NXP Semiconductors N.V. (NASDAQ: NXPI) today introduced the PCF85063 – a new family of very tiny real-time clocks operating at very low voltages down to 0.9 V. With a size of 2 x 3 x 0.75 mm and a pin pitch of 0.5 mm, the PCF85063TP tracks time and date from seconds to years, and is one of the smallest RTCs in the world. In addition to electronic frequency tuning, the RTCs can also be programmed to generate an interrupt every 30 or 60 seconds, communicating via a Fast-mode I2C-bus operating up to 400 kHz. Measuring at 2.6 x 2.6 x 0.5 mm, the PCF85063ATL and PCF85063BTL are similarly tiny, with additional features including an alarm facility and a countdown timer controlled via an I2C or SPI bus. Ideal for battery-powered operation (IDD ~0.22 μA), the PCF85063 can be used for a wide range of timing functions in compact mobile devices.
"By offering the key features you'd expect from a state-of-the-art timing reference in a remarkably tiny leadless package, the PCF85063 real-time clock family helps to further reduce PCB size for space-constrained mobile, computing and imaging devices, as well as home and industrial automation systems," said Markus Hintermann, international product marketing manager, Interface Products, NXP Semiconductors. "Combining a sub-threshold low-power oscillator with leading-edge logic density, the very tiny RTCs also enable operation across a large voltage range from 0.9 to 5.5 V."
Pricing and Availability
The PCF85063 family of real-time clocks is in volume production and available immediately. Indicative pricing for the PCF85063TP is US $0.26 per piece in 10k quantities.
Links

About NXP Semiconductors
NXP Semiconductors N.V. (NASDAQ: NXPI) provides High Performance Mixed Signal and Standard Product solutions that leverage its leading RF, Analog, Power Management, Interface, Security and Digital Processing expertise. These innovations are used in a wide range of automotive, identification, wireless infrastructure, lighting, industrial, mobile, consumer and computing applications. A global semiconductor company with operations in more than 25 countries, NXP posted revenue of $4.36 billion in 2012. Additional information can be found by visiting http://www.nxp.com.
Forward-looking Statements
This document includes forward-looking statements which include statements regarding NXP's business strategy, financial condition, results of operations and market data, as well as other statements that are not historical facts. By their nature, forward-looking statements are subject to numerous factors, risks and uncertainties that could cause actual outcomes and results to be materially different from those projected. Readers are cautioned not to place undue reliance on these forward-looking statements. Except for any ongoing obligation to disclose material information as required by the United States federal securities laws, NXP does not have any intention or obligation to publicly update or revise any forward-looking statements after NXP distributes this document, whether to reflect any future events or circumstances or otherwise. For a discussion of potential risks and uncertainties, please refer to the risk factors listed in NXP's SEC filings. Copies of NXP's SEC filings are available from the SEC website, http://www.sec.gov.