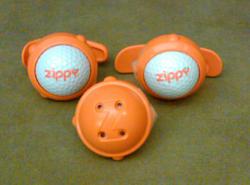 Stress relief and muscle tension relief is great when I utilize this therapy tool on my head, back of my neck, shoulders and - yes - my feet!!
Phoenix, AZ (PRWEB) April 11, 2013
Golf balls are still the perfect shape and size for personal and professional massage and the new video in the Zippy RBT YouTube channel demonstrates how Zippy devices put a golf ball in a convenient, easily accessible form for relaxing massage whenever, wherever needed. http://youtu.be/Wkc61AfrhhQ
Zing Partners created, manufactures, and distributes the Zippy Rolling Ball Therapy massage device line based on the exceptional massage performance of the common golf ball. Durable, easy to use Zippy devices are first choice of athletes, personal users, and professional therapists for peak performance, relaxation, and effective therapy. Zippy massage tools are designed to relax sore muscles and joints, sooth pressure release points, untie "knots", and bring added circulation in soft tissue. Each durable, "patent pending" Zippy tool permanently houses a golf ball within a precision high tech shell for easy grip and comfortable handling. Zippy devices offer convenient personal access to massage for relaxation or therapeutic treatment from a smooth, easy rolling device. Zippy RBT devices comes in three models: the Basic, the Rocker Handle, and the T-Handle. The Rocker and T-Handle models provide extended grip opportunities and provide integrated therapy tools for expanded functionality and treatment. Zippy RBT devices are compact, convenient to carry and use, readily accessible in sports bag, purse, pocket, auto glove box, desk, or nightstand. Keep a couple Zippys in the freezer. They are excellent to use when frozen for spot on cold therapy. Please visit http://www.zippymassage.com for more information and to purchase Zippy Rolling Ball Therapy devices or the Zippy Soother.
View our videos on YouTube on the Zippy RBT Channel, http://youtu.be/Wkc61AfrhhQ. "Like" Zippy RBT – Rolling Ball Therapy on Facebook. Follow @ZippyRBT on Twitter, https://twitter.com/ZippyRBT. Connect on Linkedin to Zippy Rolling Ball Therapy – Zing Partners LLC.
Zippy Rolling Ball Therapy Devices have been submitted to the Core77 Design Awards competition for 2013.