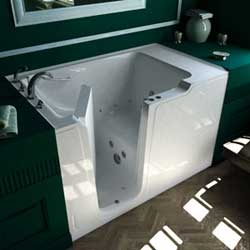 These extra large walk in bathtubs allow for a deeper soak!
Denver, CO (PRWEB) April 11, 2013
Aging Safely Baths, a leading national provider of senior bathtubs, handicap shower stalls and safety grab bars announces super sized walk in bathtubs. This extra large elderly bathtub might be a great option for shoppers that are seeking additional soaking depth, yet still want a bathtub with a low step in entry and a built in seat.
Aging Safely offers numerous traditional size walk in tubs, however, according to the company not all bathers fit comfortably into the regular or smaller walk in tub options. In some instances body size is irrelevant and some customers may prefer a larger walk in tub simply to have extra space while bathing. In addition these extra large senior bathtubs come standard with internal safety grab bars and have built in permanent seats.
The company also supplies handicap shower stalls that have padded seats designed in. These roll in shower designs are perfect for customers that don't need or desire a walk in tub for soaking. The elderly showers also have built in safety grab bars, water stoppers and high quality vinyl shower curtains to help keep water off of the floor.
Aging in place technologies for the bathroom can offer bathers a sense of independence and be used to help minimize dangerous accidents. Walk in bathtubs and handicap shower stalls can be installed into most residential homes, but can also be installed in hospitals, assisted living facilities and long term care centers. These unique products can especially be useful for bathers with disabilities and caregivers that are required to bathe their patients.
According to Aging Safely, the extra large senior bathtubs come in a white or biscuit color; however customers can request custom colorization as well. Also shoppers can optionally add air hydrotherapy jets or water whirlpool type jets as an upgrade. Additionally shoppers can request ozone sterilization, UV lighting, chromatherapy and even aromatherapy as luxury accessories for their walk in tub. The handicap shower systems and walk in bathtubs offered by Aging Safely can also include temperature control valves in which bathers can manually preset bathwater temperature.
Aging Safely will be having a special promotional price on all deep soaking walk in bathtubs as an introductory special. All standard models include handheld showers, safety grab bars, extension kits, roman faucets and a drain kit. Customers interested in further information and pricing of walk in tubs are invited to contact a Aging Safely representative.
Contact Information:
Zach Wennstedt
1-888-779-BATH(2284)
info(at)agingsafelybaths(dot)com