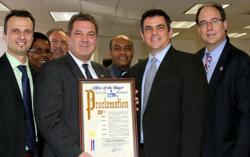 "We plan to continue our expansion to meet the growing demands of our clients in an ever-changing technology landscape," said Cioffi
Westchester County, N.Y. (PRWEB) April 11, 2013
The managing partners of Progressive Computing, Inc., (PCI) a computer consulting and network installation, design and maintenance firm, were recently joined by elected officials and community leaders for a ribbon cutting at its new 1,800 sq. ft. office space at 35 East Grassy Sprain Road in Yonkers. The move to larger space followed PCI's purchase of a competitor in 2012 and the addition of several new employees. The company celebrates 20 years in business in 2013.
At the event, PCI Managing Partners Robert Cioffi and Ugo Chiulli recognized and thanked their employees, clients, vendors and all of the community leaders in attendance for their support. "We plan to continue our expansion to meet the growing demands of our clients in an ever-changing technology landscape," said Cioffi. The partners said they decided to stay in Westchester, and Yonkers in particular, because of the opportunities present within its vibrant business community, availability of a diverse and talented workforce, and the convenience of Yonkers' proximity to New York City.
Cioffi introduced Jeffery Zink, Vice President of Sales & Business Development at 4th Bin, a company that offers solutions for electronic and computer recycling. PCI is partnering with 4th Bin to help organizations reduce e-waste and cut costs.
On behalf of New York State Senator George Latimar, Andrew Ferris presented a Certificate of Merit; on behalf of New York State Senator Andrea Stewart-Cousins, Symra Brandon presented a Certificate of Appreciation; on behalf of Assembly Member Shelly Mayer, Rachel Estroff presented a Certificate of Merit.
On behalf of Westchester County Executive Robert Astorino, Director Office of Economic Development Eileen Mildenberger, Esq. presented a Proclamation of Merit. Westchester County Board of Legislators Chairman Kenneth W. Jenkins also attended.
Representing the City of Yonkers, Mayor Mike Spano addressed attendees and presented a proclamation, and Yonkers City Council President Chuck Lesnik presented a Certificate of Congratulations. Majority Leader Wilson Terrero and Councilman Michael Sabatino also attended.
Representing The Business Council of Westchester were President/CEO Dr. Marsha Gordon and Executive Vice President John Ravitz.
About Progressive Computing, Inc.
With offices in Westchester County, NY and Manhattan, Progressive Computing, Inc. is a leader in computer network installation, design and maintenance, offering professional, cost-effective IT services, computer consulting, technical support and computer repair to organizations since 1993. They are focused on providing cost-effective, reliable and right-sized solutions. As a Microsoft Small Business Specialist,, the PCI technicians and computer consultants are dedicated to delivering IT solutions that leverage a blend of both proven and cutting-edge technologies. Clients regard them as their "on-demand" information technology department, entrusting that their recommendations, services and products will help them save money, become more efficient, and grow their businesses. Progressive Computing can support any IT outsourcing needs in a variety of ways with services that can be tailored and combined with others to deliver a custom solution to meet clients' exacting needs. These include:
ProHosting: Enterprise-class datacenter services to the SMB for mission critical applications.
ProAudit: Computer consulting services that scrutinize and appraise the strengths and weaknesses of existing computer networks and systems.
ProBackup: Disaster Recovery service plan subscription that uses a combination of an onsite backup appliance and secure offsite data storage.
General IT Services: Project or incident-based services with no contractual obligation.
Westchester County Office
Progressive Computing
35 East Grassy Sprain Road
Yonkers, New York 10710
Tel: 914.375.3009
Fax: 914.375.2550
New York City Office
Progressive Computing, Inc.
60 East 42nd Street
Suite 1161
New York, NY 10165
Tel: 212.681.1212
Fax: 212.972.4182