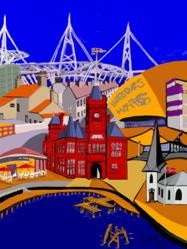 (Your painting) will bring me great enjoyment and fond memories for the rest of my life.
(PRWEB UK) 13 April 2013
Last September, Julie Morgan, AM kindly agreed to sponsor up and coming artist Christopher Langley in an exhibition called 'Abstract Wales'. The paintings on show will depict town and landscapes of Wales in an abstract, cubist style using bold colours. His full portfolio can be seen at http://www.christoperlangley.net
Christopher Langley was born in the Welsh market town of Pontypridd in 1962. He was educated at UWIC & Polytechnic of Wales, now Cardiff University.

After a career in the media spanning 30 years, during which he won eight national prizes in for short films, Langley now concentrates on producing corporate and private artwork.

Launching on 24th April 2013 then throughout May 2013, the Oriel Gallery of the Senedd, will host some of Christophers' best works.
​​
After his first successful solo exhibition in Pontypridd in May 2012, Chris has displayed work in Gallery 66, 'Off The Wall' and Victoria Fearn galleries, Cardiff, and The Library Gallery, Islington, London.
​
He currently has work on display in many public areas in Wales: The Priory Hotel, Caerleon, Newport, Staples Superstore, Cardiff. The Princess Cafe, Pontypridd, The Louis and Merollas Restaurants, Cardiff, and from next month in the Celtic Manor Resort.
He says: "I am delighted to be offered this opportunity to display my work in arguably the most important building in Wales. I would like to thank Julie Morgan, AM for sponsoring my exhibition."
He continues: "I like to vary my style of painting, depending on my mood and outlook; and how I see a subject. I like to use a cubist abstract style when creating townscapes; realism or impressionism when looking at seascapes or still life."​
​
"The townscapes of 'Pontypridd', 'Caerphilly' and 'London - Past and Present' are uncompromising in the use of contrast and colour."
​
"Within some paintings, the realism, as in 'Red Umbrella', can take a mysterious dreamlike quality. In seascapes such as 'The Bay in Red' and 'Naples' I use deep reds and blacks, adding a distinct contrast."
​​
As one viewer commented: "you think you know them, but then you realise you don't." Henry James, composer, London.
​Angelina, Manager of The Priory Hotel, Caerleon said "Thank you so much for the painting and the certificate, i really love it, it will bring me great enjoyment and fond memories for the rest of my life."
​
Christopher Langley has also been featured in the South Wales Echo, Media Wales and The Metro newspapers. His work has been used on Aura Magazine's front cover and in tour company 'Cardiff Hauntings' leaflets. He is also 'Featured Artist' on Artgallery.co.uk where a number of works are on show.
He has also been invited to show three works at the Celtic Manor Resort, in addition to supplying a local business with three original paintings.

Christopher is influenced by David Hockney, Gillian McDonald, local artist Corrie Chiswell. He is sponsored by Matol UK, suppliers of Matol Km, a herbak drink of 13 herbs and 5 minerals. http://www.matoluk.com.
The launch of the 'Abstract Wales' Exhibition will on April 24th 2013 from 18:00 0 20:45 at the Senedd, Cardiff Bay. For further information, telephone or text on 07792 295502.