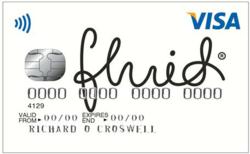 Will Becker, spokesperson at Fluid said: "Switching to our new 24 month balance transfer card could save new Fluid customers huge amounts in interest. Plus, with Fluid's apply with confidence service we are helping take some of the fear out of applying."
London, 11th April 2013 (PRWEB UK) 11 April 2013
Online personal finance brand Fluid has launched its longest ever balance transfer credit card for new customers.
The new card offers up to two years borrowing at 0% on balance transfers made within the first 60 days of account opening (with a handling fee of 2.89%) and has the added benefit of 0% interest on the first three months of purchases.
Uniquely, the Fluid card portfolio is still the only one that checks every customer's personal financial history before the application process so they can apply knowing whether they are likely to be accepted. Best of all, Fluid's 'apply with confidence' service does not leave a footprint on personal credit files, so both credit ratings and time can be saved.
The new card replaces the previous 23 month 0% Fluid balance transfer credit card and compliments Fluid's existing low fee balance transfer card (15 months at 0% with a low 1.5% fee).
Will Becker, spokesperson at Fluid said: "Switching to our new 24 month balance transfer card could save new Fluid customers huge amounts in interest. Plus, with Fluid's apply with confidence service, we are helping take some of the fear out of applying for a new credit card. Getting turned down for a credit card can damage people's credit scores; particularly if they go on to make multiple applications in the hope of getting accepted. Fluid offers something different."
The Fluid credit card is available now at http://www.fluid.co.uk