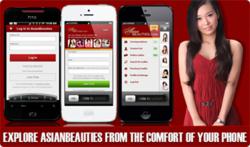 "This exciting new mobile version makes it easier for guys everywhere to explore the world of Asian dating"
NEW YORK (PRWEB) April 12, 2013
AsianBeauties.com has introduced a streamlined mobile version of its website to give all gentlemen across the world instant access to over 25,000 Far East women while on the move. It's designed to be a simpler and more convenient way to find love and companionship with ladies from countries including China, Thailand and the Philippines.
The compact version of the site, available via a special address http://m.asianbeauties.com, is customized to work smoothly on smartphone browsers using all iPhone OS (5.1+) and Android models (2.3+). All members can sign in using their existing login details or alternatively new users are able to create an account through their mobile browser. This lets them take advantage of AsianBeauties' highly popular Live Chat feature that provides real-time contact with hundreds of ladies online at any one time. The mobile version also includes Email Correspondence to enable men to message all ladies who are currently offline, including their favorites.
"This exciting new mobile version makes it easier for guys everywhere to explore the world of Asian dating and stay connected with a beautiful selection of potential matches," commented Lawrence Cervantes, Chief Communications Officer at AsianBeauties. "We're always looking to enhance our service and this new smartphone version does exactly that by giving guys anytime access to Asian ladies everywhere they go."
Members can save the site to their mobile browser favorites and enjoy fast access to their account throughout the day. It's the perfect way for those interested in international dating to stay completely up-to-date and turn their smartphone into the ultimate Asian dating gadget.
ABOUT ASIANBEAUTIES
AsianBeauties is part of Anastasia Global, founded in 1993, which offers premium international dating to facilitate exciting and romantic companionship online with beautiful and interesting women from all over the world. Anastasia Global includes AsianBeauties.com, AnastasiaDate.com, AmoLatina.com, and AfricaBeauties.com which together count over 4 million international users and more than 150 million online visitors annually. Additionally, over 2.5 million conversations are exchanged onsite daily. Anastasia International is committed to member safety, customer satisfaction and the ongoing pursuit of innovation. With offices in Russia, the U.S., China and the Philippines, Anastasia provides services to a worldwide clientele who are able to communicate across a variety of top-notch multimedia platforms, including video chat.