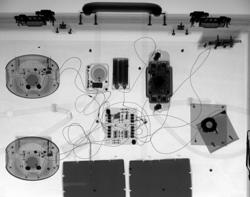 (PRWEB) April 11, 2013
The increased safety of the DR in comparison to film or computerized radiography (CR) manifests itself in several ways. When inspecting an object, the DR operator need only approach the object once as opposed to twice. With DR images are produced in seconds and are available on a laptop screen on site. This facilitates immediate response in critical situations, whereas with film or CR the response is delayed because the film or image plate needs to be developed or scanned.
In the security industry, this enables inspectors to make quick life-saving actions, in NDT this immediacy translates to increased testing efficiency and profitability. Moreover, DR systems have a long life span and re-usability is unlimited. The operator can take endless shots and will never run out of film at a critical moment. Another safety advantage is the DR's ability to control the X-ray source from afar. Additionally, producing a great quality image requires a low exposure, due to the sensitivity of the digital panels.
Vidisco's DR systems have a particular added value as they are fully battery operated. Batteries last over five hours, thus there is no need to change batteries down range and power is guaranteed during the entire inspection process. Vidisco's digital X-ray systems are also portable and convenient, since all equipment is packed in a single case or backpack which also serves as an operational platform. Vidisco's system can be carried to any location, and sometimes a small flight of stairs on the way to an inspection site can make all the difference. Film or CR technology requires carrying much heavier equipment.
Vidisco Ltd. is a leading designer and manufacturer of state-of-the-art portable X-ray inspection systems. For a quarter of a century Vidisco has been revolutionizing the X-ray industry as it was the first company to offer a portable, PC-based digital X-ray system. Today, Vidisco still leads the way for innovative digital X-ray technology with digital flat panels, offering products such as the thinnest panel in the world, and a compact panel approximately the size of a DVD case Today, Vidisco's portable digital X-ray systems are sold in over 75 countries and deployed in every kind of terrain and weather conditions.
Adar Yiron, Vidisco's VP of Sales and Marketing further explains "Vidisco creates and manufactures portable DR systems with the safety of the operator as the number one motive. We believe that if our systems can help save even one human life, then we have accomplished our main mission. All the state-of-the –art technology that Vidisco's systems feature is meant to make the inspectors' jobs easier and safer. We are very proud of the positive responses we have received from operators in the field throughout the years."