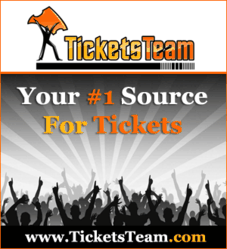 Maroon 5 will be performing again for Honda Civic Tour 2013 and will be accompanied by the biggest pop singer of America, Kelly Clarkson. Tickets are conveniently available at TicketsTeam.com.
Saint Louis, MO (PRWEB) April 12, 2013
Maroon 5, Kelly Clarkson & Rozzi Crane will join together in Honda Civic Tour 2013. It is considered to be the most massive and the largest music concert that would ever happen in the history of music. The tickets of this big event are easily available from TicketsTeam.com. The show will take place in some of the major cities and so every person will get the opportunity to join the concert and move their hips with the song. The infectious whistle that has gone viral "Moves like Jagger" will definitely be the catchiest tunes in the Honda Civic Tour.
These upcoming shows have attracted millions of people and they are showing their interest by making calls about acquiring information about the availability of the tickets and the price of each ticket. TicketsTeam.com has taken the initiative of offering the ticket at the best price possible and also expects that this aggressive attitude of the public will soon lead to complete sold out of the tickets in record time.
Grammy award winning artists will be performing together in a single stage which is quite interesting for the public. The Honda Civic Tour has begun in 2001 and the event has presented numerous artists in the past. It is the second time that Maroon 5 will be performing in the Honda Civic Tour. The supporting artist for this year will be Rozzi Crane, Tony Lucca and PJ Morgan. The Civic Tour will first make its appearance on 1st August in St. Louis, MO and will continue to perform in all the major cities.
Maroon 5 and Kelly Clarkson concert tickets are conveniently available at TicketsTeam.com. They will also be performing in Pittsburg on 6th August, Chicago 25th August, and Cleveland on 26th August and Tampa on September 13. The show will continue for 32 dates all across the US and it will conclude on 5th October in San Diego. Kelly Clarkson is a popular American pop singer and occasional actress. She has won the fame and has become the winner of American Idol in 2002.
TicketsTeam.com is the best source through which the public can get the ticket of the most popular events and shows. The tickets are fast getting sold and so it is the final chance for the public if they are interested then they should book the show now and enjoy the concert. Maroon 5 will act as the headliner of the tour and soon will be joined by the special guest Kelly Clarkson.