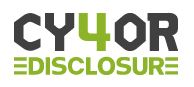 (PRWEB UK) 11 April 2013
CY4OR is pleased to announce that they have partnered with Nuix, a leading supplier of investigative solutions, to integrate the Nuix Enterprise Discovery Solution into their existing legal technology infrastructure.
Joel Tobias, Managing Director of CY4OR, commented, "Nuix's ability to collect, process and search large volumes of data, from varied sources including, Forensic Images, Exchange Sever, Sharepoint and a broad range of cloud-based repositories will enable CY4OR to conduct large scale investigations quicker and more efficiently."
CY4OR already has an extensive suite of investigative tools, including Encase, Forensic Toolkit and Clearwell and the adoption of Nuix will further enhance its reputation as a leading supplier of digital investigation services and edisclosure.
"We look forward to helping CY4OR use our technology to provide industry-leading investigation and e-disclosure services that solve urgent and sensitive problems for their clients," says Jim Kent, CEO of Nuix EMEA.
The Nuix enterprise discovery solution was chosen after extensive research into other products available and represents a considerable investment by CY4OR in infrastructure improvements.
About CY4OR
CY4OR is a leading supplier of computer forensics and e-disclosure services to many of Europe's leading corporate companies and law firms. CY4OR has investigated over 6,000 cases across the whole legal spectrum of both civil and criminal activity. CY4OR's consultants are regularly required to provide expert witness testimony in the courts and have enjoyed considerable success over the years.
About Nuix
Nuix is a worldwide provider of information management technologies, including e-Discovery, electronic investigation and information governance software. Nuix customers include the world's leading advisory firms, litigation support providers, enterprises, government departments, law enforcement agencies, and all of the world's major corporate regulatory bodies.