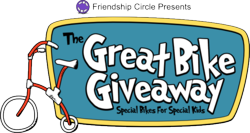 Give a child with special needs the gift of freedom, pride and confidence.
West Bloomfield, Michigan (PRWEB) April 15, 2013
Everyone remembers the freedom felt, the confidence gained and the pride felt when a new bicycle was received.
The Great Bike Giveaway was created to give children with special needs that same feeling of receiving a very special bike.
In the second annual Great Bike Giveaway, Friendship Circle is partnering with Buddy Bike, Rifton, Ambucs, Triaid, Flaghouse and Tadpole Adaptive to give away adaptive bikes to children and young adults with special needs.
Here is how the contest works:
1. Between April 15th and May 12th a parent of a child with special needs can submit a picture of their child with special needs along with a short explanation of why they need an adaptive bike.
2. Once the entry has been submitted the participant will need to be nominated by 50 friends and family members to be entered in the drawing.
3. A drawing will be held for each prize to determine the winners of the adaptive bikes. Only those with 50 nominations will be eligible.
New for 2013!
In addition to the bikes that have been sponsored, Individuals have the ability to donate to the Great Bike Giveaway to get more bikes added. Every time the donation meter is filled another bike gets added to the drawing!
To enter the Great Bike Giveaway visit http://www.greatbikegiveaway.com For contest rules visit http://www.friendshipcircle.org/bikes/rules.
Friendship Circle has been providing assistance and support for more than 3,000 families of children with special needs since 1994. Friendship Circle pairs teen volunteers with children who have special needs and together they participate in over 25 weekly and monthly programs. To learn more about Friendship Circle visit http://www.friendshipcircle.org. To learn more about this contest visit http://www.friendshipcircle.org/bikes/about/