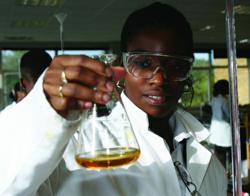 Science Week is an ideal opportunity to see the range of exciting scientific subjects we teach at Birkbeck.
(PRWEB UK) 11 April 2013
The latest thinking about fascinating scientific topics – from climate change and earthquakes to autism and chlamydia – will be shared during free lectures at Birkbeck, University of London. Prospective students will also be able to find out about the science courses on offer during Birkbeck's Science Week.
Academics will present new evidence on a range of topics, including about climate change and human evolution in Africa, and the underlying cause of autism. Information will also be available at the events from 15-18 April about studying at all levels, from Certificates of Higher Education to undergraduate and postgraduate degrees.
Birkbeck specialises in part-time and evening higher education, and its School of Science produces world-leading research, offers state-of-the-art facilities, and a first-class learning environment for students. The School consists of three Departments: Biological Sciences, Earth and Planetary Sciences, and Psychological Sciences. Famous former Birkbeck scientists include JD Bernal – a pioneer in X-ray crystallography – and Rosalind Franklin, who made important contributions to the understanding of DNA.
Professor Nick Keep, Executive Dean of the School of Science, said: "Science Week is an ideal opportunity to see the range of exciting scientific subjects we teach at Birkbeck. Whether you want to find out about earthquakes or medical genetics, come along and hear what our researchers have to say on these topics and the study opportunities at the College."
As well as lectures about scientific topics, there will be a taster session for prospective students to find out more about the different departments and study options.
All events are free and open to the public. Booking is required. Please complete the online form.
Science Week timetable
Monday 15 April
Taster Session [5.15-7pm] Come along to this session to find out more about our science programmes. There will be introductions from all departments, plus a look at our Certificate and Postgraduate programmes.
Tuesday 16 April
Climate Change and Human Evolution [4-5pm] Dr Philip Hopley, Department of Earth and Planetary Sciences, will launch Science Week with his lecture describing how past climate changes have shaped our evolutionary history. He will present new evidence for the environmental context of human evolution in Africa.
Earthquakes in Italy [6-7pm] Professor Gerald Roberts, Department of Earth and Planetary Sciences, discusses the role of historical records of earthquakes and how they can help manage the threat of future ones.
Wednesday 17 April
The latest findings in autism research [4-5pm] Professor Michael Thomas, Department of Psychological Sciences, will discuss our understanding of autism, and will offer a new hypothesis of the underlying cause which proposes that autism is caused by aggressive pruning of brain connections, an exaggeration of a normal phase of brain development that occurs during childhood.
Sex, drugs and rock n' roll: Chlamydia: unlocking the secrets of a stealth pathogen [6-7pm] Dr Richard Hayward, Department of Biological Sciences, will describe research using molecular and cellular approaches to investigating how Chlamydia interacts with host cells. This pathogen is one of the increasing numbers of antibiotic resistant bacteria which medicine needs to understand in order to develop new drugs.
Thursday 18 April
Sodium Channel Structures and Cardiovascular and Neurological Diseases: Developing Novel Pharmaceutical Drugs [4-5pm] Professor Bonnie Wallace, Department of Biological Sciences, will describe studies on the structure and dynamics of sodium channels and how knowledge of their mechanisms of opening and closing provides a powerful tool for understanding the underlying basis of many diseases and the development of new pharmaceuticals for their treatment.
Making sense of medical genetics [6-7pm] Professor Jonathan Smith , Department of Psychological Sciences, will close Science Week with this talk about the issues and ethics surrounding genetic testing and information. He will report on a programme of research which uses in-depth interviews to examine how individuals make sense of this new genetic world.
Notes to editors

Birkbeck is a world-class research and teaching institution, a vibrant centre of academic excellence and London's only specialist provider of evening higher education.
Birkbeck is ranked among the top one per cent of universities in the world in the Times Higher Education World University Rankings 2012.
We encourage applications from students without traditional qualifications and we have a wide range of programmes to suit every entry level.
18,000 students study with us every year. They join a community that is as diverse and cosmopolitan as London's population.